Beginning on Monday, August 31 and continuing for approximately 2 months, the E. 55th St. Station BUS LOOP will be closed.
A temporary bus loop is constructed at the intersection of Bower Ave. and E. 57th St. with a temporary bus stop on Bower. The southbound #16 will pick up and drop off at this temporary stop. Additionally, the northbound #16 will use the temporary bus stop and will not pick up or drop off on E. 55th St.
The E. 55th St. Rapid station is still open to rail traffic during this time.
Please see map below for details.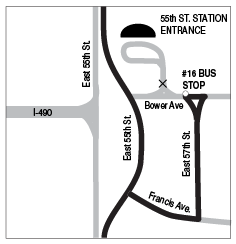 RTA apologizes for the inconvenience as this construction is completed.
Effective Date:
Aug 31, 2020

to

Nov 12, 2020
Is this a permanent change?: