On Saturday, August 22 and Sunday, August 23 Red Line rail service between Tower City and Windermere will be replaced with 66R buses due to construction work at the E. 79th St. station.
66R buses do not stop at Tri-C-Campus District, and during this shutdown will not stop at E. 55 station. Riders wishing to access these stations can use the Blue and Green Lines.
The stop for Tower City is located on W. Prospect at W. 3rd St.
66R buses will stop at all other stations on the Red Line. There are additional 66R stops at Woodland-E. 55 and Woodland-E. 79. Please look for the special orange 66R bus stop signs.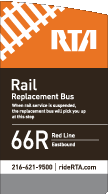 66R buses will operate on a 30 minute frequency. Rail service between Tower City and the Airport will operate as scheduled.
Regular Red Line rail service will resume with the start of service on Monday, August 24.
RTA apologizes for the inconvenience as this necessary work is completed.
Effective Date:
Aug 22, 2020

to

Aug 23, 2020
Major Stations:
Cedar - University Rapid Station
E. 105 - Quincy Rapid Station
E. 55 Rapid Station
E. 79 (Red Line) Rapid Station
Little Italy - University Circle Rapid Station
Louis Stokes/Windermere Rapid Station
Superior Rapid Station
Tower City Rapid Station
Tri-C - Campus District Rapid Station
Is this a permanent change?: