Effective:

Jul 14, 2018

to

Jul 15, 2018
On Saturday, July 14 and Sunday, July 15, 67R buses will replace Blue and Green Line trains between Tower City and E. 55 due to work on the new E. 34-Campus station.
67R buses will only stop at Tower City and E. 55 stations. Please look for the special orange 67R bus stop signs.
The stop for Tower City is on West Prospect at West 3rd.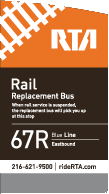 Also during this time, Waterfront Line rail service will be replaced with 67R buses between Tower City and South Harbor (Muni Lot) due to wall repairs at Tower City.
67R buses coming from the Waterfront Line will not continue on to E. 55 station. Riders wishing to transfer from the Waterfront Line to a Blue or Green Line train will need to change 67R buses at Tower City.
Regular Blue, Green and Waterfront Line rail service will resume with the start of service on Monday, July 16, 2018.
RTA apologizes for the inconvenience as this necessary work is completed.