Effective:

Aug 25, 2018

to

Aug 26, 2018
On Saturday, August 25 and Sunday, August 26, 67R buses will replace Blue and Green Line trains between Tower City and E. 55 due to work on the new E. 34-Campus station.
67R buses travel directly between Tower City and E. 55 stations, and will not serve the E. 34 station. Riders should use #15 or #19 bus routes to/from downtown.
The stop for Tower City is on West Prospect at West 3rd.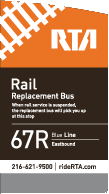 Please look for the special orange 67R bus stop signs.
In addition, due to Red Line construction between Tower City and Windermere, riders can also use the 66R to travel between Tower City and E. 55.
Waterfront Line service will operate every 30 minutes, but on a modified schedule.
Regular Blue and Green Line rail service will resume with the start of service on Monday, August 27, 2018.
RTA apologizes for the inconvenience as this necessary work is completed.
Routes