Equations factored into the lives of Northeast Ohioans in 2008. They included calculations for falling home values, rising interest rates, surging oil prices, decreasing bridge weight capacities, alternating traffic patterns, increasing global temperatures, dropping stock markets, and exponential growth potential of the region's most historic corridor. Through it all, RTA demonstrated that it is part of the solution in leveraging the many positives of our city.
Traffic congestion costs Americans 4.5 billion hours in lost time, $78 billion in wasted fuel, and $67.5 billion in lost productivity annually. Despite such grim numbers, there is a solution. Public transportation usage is on the rise across the country. Current ridership levels are saving travelers 541 million hours in travel time and 340 million gallons of fuel caused by idling in traffic.
In Ohio, 60 public transportation systems serve more than 500,000 customers daily. These transit authorities remove 100,000 cars from congested highways throughout the state. RTA makes up a large part of this equation, servicing more than 200,000 commuters in Northeast Ohio and pulling 50,000 vehicles off the roadways.
In 2008, the freeways surrounding Cleveland opened up a bit, as more drivers made the switch to public transit. RTA ridership was up for a sixth straight year, from 57.3 million in 2007 to 57.9 million. It surpassed the previous year by 650,000 rides, despite the implementation of a fare increase and service cuts. Some turned to rail, avoiding the roadways altogether, with rail ridership growing by a healthy 2.56 percent. In fact, ridership on the Red Line grew so significantly during weekday morning and evening commutes, that three-car trains were needed to avoid traffic congestion in the aisles. HealthLine ridership increased by 36 percent, Trolleys were up by 31 percent, and Paratransit by 6 percent.
Park-N-Rides also experienced strong gains. In 2006 and 2007, several capital projects were undertaken to expand the parking capacity at these facilities in preparation for the Innerbelt Bridge project. And with the emergency shutdown of lanes on this bridge in 2008, it proved to be a smart move. More than 100,000 vehicles travel along the Innerbelt each weekday. The unexpected closures caused drivers to scramble for alternative routes, such as public transit. Trucks and other heavy vehicles, including RTA buses, are currently being rerouted off the bridge, and as construction progresses in the retrofit of the existing structure and the building of a new bridge, RTA's rail lines, bus routes, and Park-N-Ride network will be vital for getting people to destinations in and around the downtown area.
Not all the growth realized by RTA in 2008 occurred on buses and trains. Fare programs for frequent riders were also popular. This includes greater participation in the transit authority's Commuter Advantage program. The program allows employees to purchase monthly passes using pretax dollars. In 2008, the program reached a milestone, with more than 10,000 employees participating at 430 Northeast Ohio organizations. The addition of these new riders will change the equation on the rush hour commute – adding even more car lengths between drivers.
Half of the world's oil is consumed in transportation. This fact became painfully evident to drivers last year, as the demand for oil caused gasoline and diesel prices to spike to unthinkable levels. Eventually, the prices caused the economy to stall. But it also sparked a serious commitment to break our dependence on fossil fuel. Public transportation offers the most immediate solution. It saves 4.2 billion gallons of gasoline annually. And if all Americans used transit for just 10 percent of their daily travel needs, the nation would reduce its dependence on foreign oil by more than 40 percent.
Many Northeast Ohioans were hard hit by the skyrocketing fuel costs last year. For the average family in the region, more than 20 percent of the household income was spent driving to and from work. This expense exceeded the average amount paid for food. While families struggled in 2008, oil companies thrived. All posted record profits, adding to the frustration felt by commuters.
RTA gave commuters a release for their frustration. The transit authority blocked Public Square with oil barrels and buses, creating the perfect venue for a positive protest. Along with hundreds who came to the event for a free All-Day Pass was a group of demonstrators, members of the Northeast Ohio Chapter of People Who Are Sick Of Driving And Paying For Gas (PWASODAPFG). The group carried picket signs, dragged steering wheels, held hubcaps, and used megaphones to get the attention of downtown office workers. It was an opportunity for RTA to show off new motor coaches purchased through a grant from the Northeast Ohio Areawide Coordinating Agency to service the Park-N-Ride network. In addition, the event captured media attention for the protest, locally, nationally, and around the world.
The campaign to encourage people to get out of their cars and onto buses and trains continued on the airways through radio spots and using outdoor billboards along freeways. Guerrilla tactics were also employed, including dispersing driver licenses throughout the city with the message: If found, don't return, I take RTA now. The campaign even went to the place where cars are king – the 2008 Cleveland Auto Show. The 63-foot long hybrid vehicle for the HealthLine was put on display, and it was the first transit vehicle ever to be showcased at an auto show in North America.
All the campaign elements had an impact on drivers. But it was the hard numbers that ultimately made them switch to RTA. Households that use public transportation save an average of $8,000 every year. It's a decision that makes good economic sense, which is also good for the global economy.
Transit systems are catalysts for redevelopment in the communities they serve. New rail and bus routes spur investments in retail, housing, and office space projects. Because of this, transit oriented development (TOD) is now the leading urban planning model in the United States. Transit also has a positive impact on real estate values. Commercial and residential properties in close proximity to a transit line have a 13 percent higher value on average. Equally important is the impact transit has on strengthening the neighborhood through enhanced mobility.
Cleveland is a model on the impact of transit in a community. Shaker Heights was one of the earliest examples of TOD, created through the Van Sweringens' plan to link home to work using the Shaker Transit Lines in 1913. Today, the HealthLine is creating a faster link between downtown and University Circle. The transit line is transforming Euclid Avenue into a showplace for the city, just as industrialists like Rockefeller and Severance did more than a century ago.
Trolleys are also making an impact. Working with the Downtown Cleveland Alliance and Positively Cleveland, RTA developed the Trolleys as a way to combine fun with functionality. The two routes operate on a short 10-minute frequency to get people to their destinations quickly. And through support from Dollar Bank, they remain free to ride with a smile.
Downtown is now Cleveland's fastest growing neighborhood – more than doubling in size over the last five years. The neighborhood is attracting young professionals and empty nesters from all parts of Northeast Ohio and beyond who are seeking distinctive lofts and townhouses, entertainment, and car-free living. The Trolleys connect these residents, as well as downtown office workers and visitors, to hotspots in the Warehouse and Entertainment Districts. They also take them to performances at Playhouse Square and get them within walking distance to events at The Q, Progressive Field, and Browns Stadium. The symbiotic relationship between the Trolleys and the community has helped the neighborhood grow at the same pace as ridership. RTA's Trolleys now transport more than 5,500 riders per day, and last year, carried more than one million passengers.
In other parts of the city, RTA routes were a critical link for other redevelopment efforts last year. This includes a TOD project that will bring vibrancy to the Shaker Heights Lee/Van Aken Station, which boasts the second-highest ridership east of Shaker Square. And at the Avalon Station, redevelopment plans were unveiled to create luxury lofts near the transit hub, which is a formula for a healthy community.
No matter how you calculate it, public transit is a smart investment. In addition to reducing carbon emissions and offering cost savings for commuters, transit projects generate three-to-one returns in commerce growth for a community. The paybacks are even higher for innovative approaches such as Bus Rapid Transit (BRT). These systems provide riders with the comforts of rail for a construction cost that is 40-70 percent less. With these strong numbers, BRTs are rising to the top of stimulus reinvestment lists in cities across the country.
Cleveland is ahead of the game. Last year, service commenced on the nation's first new federally-funded BRT project – the HealthLine. It's a project that began nearly 50 years ago as a vision for stimulating economic growth and improving the quality of life in Northeast Ohio.
In the most basic of definitions, the HealthLine is a transit route between two of the region's largest employment centers. Beyond this, it's the connection to the city's new economy. Along the route, one will find world-class health care, a world-renowned orchestra, inspiring art and architecture, and nationally-respected centers for learning. The once-famous avenue is also becoming the place for tech firms, empty nesters, and Iron Chefs. Billions in redevelopment have already been made along the route – an area that remains the region's engine for job creation.
The opening of the HealthLine presented an opportunity to bring the community together in celebration of the region's many cultural and intellectual assets. It began with an official ribbon-cutting ceremony. Cleveland sports legends Lenny Barker, Kevin Mack, and Campy Russell joined area youths to cut the ribbon – a passing of the torch from Cleveland's past to its future. The following day, families toured the line for free, making stops at Cadillac Ranch, Severance Hall, and other locations, as part of a community scavenger hunt. And at night, a free concert was held on Mall B featuring Disney artists and American Idol Jordin Sparks, followed by a fireworks show choreographed to rock classics.
After the festivities were over, riders were ready to board. The short 20-minute trip linked commuters to the hotels, major employers, and venues in Cleveland's central business district with the cultural institutions, hospitals, and research centers of University Circle and East Cleveland. It also changed the direction in which people traveled – with Warehouse residents boarding in the morning for a day of work in University Circle and Case students catching a ride at night for a game at The Q. As a result, ridership grew by 36 percent in the last two months of the year, a number that speaks to the true success of the route.
Global climate change has many people rethinking their mode of travel. Approximately 85 percent of all green-house gas emissions are generated by the transportation sector. In the United States, public transit ridership eliminates 37 million metric tons of carbon dioxide annually. And with transit authorities switching to clean-diesel, natural gas, and hybrid-electric bus fleets, the benefits of riding versus driving continue to rise. Commuters who rely on public transit to get to and from work reduce their average carbon footprint by 4,800 pounds per year.
RTA has made green thinking a priority. Over the past six years, its entire bus fleet has been transformed to clean-air vehicles. The buses operate on ultra low-sulfur diesel, and also are equipped with after-treatment filters for removing 90 percent of all particulate matter from exhaust. This change, along with a steady increase in transit ridership, has contributed to improved air quality. Northeast Ohio's Ground-Level Ozone Emissions have dropped significantly over the past six years. In 2003, emissions measured 103 parts per billion (PPB), but by 2007, were down to 89 PPB.
Green engineering was also an integral part of the HealthLine design. The 21 hybrid vehicles that operate on the route are powered by clean diesel engines and electric transmissions with 100 kW motors and 600-volt nickel hydride battery packs. This unique power train reduces particulate emissions while dramatically improving fuel efficiency. In addition, the streetscape along the 9.4 mile route was designed to create a healthier environment, with 1,500 trees planted and urban gardens placed at center median stations.
Encouraging cycling is another facet of RTA's green strategy. It was the first transit authority in the country to have its entire bus fleet bike-rack equipped. Riders are also permitted to bring bikes aboard RTA trains servicing the Red, Blue, and Green Lines. And dedicated bike lanes are a component of the HealthLine. Creating a bike-friendly environment has caused more and more cyclists in Northeast Ohio to combine biking with riding – for a way to work, school, and fun. Last year on the buses alone, more than 50,000 riders racked their bikes.
Seeds have been planted in many Northeast Ohio communities on the concept of car-free living. RTA's Community Circulators go a long way in supporting this kind of sustainable lifestyle. The 12 routes make frequent stops at libraries, drug stores, and local shops. Dave's Market offers riders an extra incentive to go-green with free 2-Trip Farecards on grocery purchases of $15 or more. For visitors of these culturally distinctive neighborhoods, RTA introduced ONE-PASS TRIPS. The travel guides provide information on the best-kept secrets on where to dine and what to do – making it a little greener for merchants, as well.
Transit is intrinsically linked to employment. More than half of the nation's Fortune 500 companies are headquartered in metropolitan areas with multiple modes of transit routes. Public transit projects themselves generate a significant number of jobs. It's estimated that for every $1.25 billion invested in transit infrastructure projects, 35,000 jobs are created. Many more jobs are added from private investment in retail, housing, and entertainment along routes. Public transit is also poised to create 1.3 million green jobs over the next two years, through capital projects and transit operations.
In Ohio, RTA carries half of all transit riders. The destination for the majority of these riders is work. Manufacturing remains a strong employment base in Northeast Ohio. However, medical and education are quickly becoming the region's new economy. Thirty years ago, only 1 in 39 people were employed in a health-care industry in Ohio. By 2006, the ratio was 1 in 18. And by 2014, it is projected that nearly 3 million Ohioans will work in the health-care field.
Like Silicon Valley in California and the Quadrangle in the Carolinas, the HealthLine route is Northeast Ohio's hub for job creation and research. The historic Millionaires Row is now the location of world-class medical centers – the Cleveland Clinic and University Hospitals. It's also home to Fortune 500 companies, the Cleveland Orchestra, the Cleveland Institute of Music, The Cleveland Institute of Art, Cleveland State and Case Western Reserve Universities, and numerous world-class museums and bio-tech startups. Separation of Cleveland's downtown business district from its research and cultural center hindered the city's development. Through the HealthLine, the areas are linked together. The line shortens the time between downtown and University Circle to just 20 minutes.
In addition to being a needed infrastructure improvement, the HealthLine is proving to be a catalyst for redevelopment. Currently, more than $4.3 billion has been invested along the route. In the downtown area, once vacant buildings are becoming filled with promising tech firms. And in University Circle, plans for townhouses could change the way college students live. In between, the Midtown area is also experiencing resurgence in new development.
Commerce and capital are two ways transit stimulates the economy. Equal access to work is another. RTA's Paratransit service is a necessary link to work for thousands with disabilities. Last year, functional testing continued to ensure the highest quality of service to those who need the service most. This policy change follows a $1.4 million investment in advanced scheduling software and other upgrades that have given Paratransit users greater comfort and confidence – mobility that has exponential benefits for the community.
Year-End Financial Report
RTA completed 2008 in a strong financial position. This was accomplished, despite a dramatic increase in fuel costs, as a result of efforts by the Authority to maintain tight control of expenditures. RTA ended the year with a balance of $8.4 million, which was $3.8 million above budget.
Operating revenues exceeded the budget in some categories and fell short in others. Total revenue generated increased from 2007 to 2008. This was largely due to a $4.7 million or 10.8 percent increase in Actual Passenger Fare revenue from 2007. Annual system ridership increased by 655,000 rides, making the increase the sixth consecutive year of ridership growth. Another reason for the revenue development was a gain in Advertising and Concessions, which totaled $1.6 million, or 30.7 percent more than in 2007. This significant variation was largely due to the successful selling of the 'HealthLine' naming rights and improved revenue from soft drink and snack vending sales. However, a drop in RTA's largest revenue source, Sales and Use Tax, combined with a delay of Ohio Elderly Fare Assistance, were two major reasons operating revenues fell under the projected revenue budget.
Operating Expenses for 2008 fell $7.5 million below RTA's expense budget. This was due to significant decreases in Personnel Services and Material & Supply expenditures. The transfer to Capital Improvements was higher than budgeted. However, this was offset by the Bond Retirement Fund, where the transfer was approximately $3 million below budget because of low interest rates and September refinancing at the time of purchase. Diesel Fuel Cost for the year was $19.3 million – a 63 percent increase in expenses compared to last year. The Authority's early proactive action to reduce the remainder of other expenses allowed the organization to end the year only $540,000 above budget in total for the category.
Financial Indicators confirmed RTA's overall sound financial position. Out of the eight basic financial policy indicators, two met budget goals. The Operating Ratio at 21.4 percent, though higher due to an increase in advertising revenue from the HealthLine naming rights agreement, did not meet the policy goal of at least 25 percent. Fare Subsidy (Net Cost) Per Passenger at $3.24 ended below a $3.45 budget for the year.
RTA's Operating Reserve of 0.4 month did not meet policy objectives, though it was an improvement when compared to budget. At 12.2 percent, Overhead Cost to Total Cost was slightly lower than budget, and well below the maximum of 15 percent. Taking into account the increased fuel costs and lower actual service hours, RTA's Cost per Hour of Service at $107.67, was slightly less than budgeted. RTA's Debt Service Coverage indicator experienced improvement in its ratio, ending the year at 1.32 over a budgeted level of 1.21. This was primarily a result of an improved beginning balance, as well as the refinancing of debt service payments in 2008. RTA met its policy goal of 10 to 15 percent for the Sales Tax Contribution to Capital, measuring at 14.3 percent – ending at the higher end of the indicator. At a year-end of 89.3 percent, the ratio of Capital Maintenance Outlay to Capital Expansion Outlay did not meet policy goals.
RTA's 2008 ending financial scenario demonstrates continued improvements in certain areas. The Authority's proactive approaches to controlling expenses, anticipating increases in uncontrollable costs, and developing business efficiencies have increased RTA's year-end balance from the $4.6 million budgeted to $8.4 million.
General Fund
 
2007 Actual
2008 Actual
$ Change
% Change
% of Total
REVENUE
Passenger Fares
$ 43,467,204
$ 48,173,966
$ 4,706,762
10.8%
18%
Advertising/Concessions
1,217,959
1,591,538
373,579
30.7%
1%
Investment Income
870,024
825,634
(44,390)
(5.1%)
0%
 
Total Operating Revenue
$ 45,555,187
$ 50,591,138
$ 5,035,951
11.1%
 
 
Sales/Use Tax
$ 171,661,508
$ 173,568,817
$ 1,907,309
1.1%
66%
Grants
2,818,956
976,432
(1,842,524)
(65.4%)
1%
Other
35,394,393
36,989,173
1,594,780
4.5%
14%
 
Total Non-Operating Revenue
$ 209,874,857
$ 211,534,442
$ 1,659,565
1.0%
 
 
Total Revenue
 255,430,044
$ 262,125,560
$ 6,695,516
2.6%
100%
 
EXPENDITURES
Labor/Fringe
$ 173,796,848
$ 173,016,961
$ (779,887)
(0%)
68%
Materials/Supplies
14,573,718
13,770,197
(803,521)
(5.5%)
5%
Fuel/Utilities
25,919,960
33,011,309
7,091,349
27.4%
12%
Services
9,363,174
8,826,260
(536,914)
(5.7%)
3%
Purchased Transportation
3,295,948
4,142,765
846,817
25.7%
2%
Liabilities
5,797,491
5,872,841
75,350
1.3%
2%
Other
815,958
1,311,777
495,819
60.8%
0%
 
Total Operating Expenditures
 $ 233,563,097
$ 239,952,110
$ 6,389,013
2.74%
 
 
Transfer to Insurance Fund
$1,200,000
$ 2,900,000
$1,700,000
141.7%
1%
Transfer to Pension Fund
100,000
100,000
0
(0%)
0%
Transfer to Bond Retirement Fund
15,456,127
14,718,950
(737,177)
(4.8%)
6%
Transfer to Capital Improvement Fund
6,825,687
10,100,882
3,275,195
48.0%
4%
 
Total Non-Operating Expenditures
$ 23,581,814
$ 27,819,832
$4,238,018
18%
 
 
Total Expenditures
$ 257,144,911
$ 267,771,942
$10,627,031
4.1%
100%
 
Revenue/Expenditures
$ (1,714,867)
$ (5,646,382)
 
 
 
Balance Jan. 1
$ 15,762,335
$ 14,047,468
 
 
 
Balance Dec. 31 (Less Reserve Funds)
$ 14,047,468
$ 8,401,086
 
 
 
Capital Fund
 
2007 Actual
2008 Actual
$ Change
% Change
% of Total
REVENUE
Federal Capital Grants
$ 74,319,702
$ 86,109,609
$11,789,907
15.9%
60%
State Capital Grants
8,532,391
9,370,685
838,294
9.8%
7%
Local Sources
(Gen. Fund and Debt Proceeds)
6,825,687
45,573,441
38,747,754
567.7%
31%
Other
$2,810,906
$ 1,837,731
$(973,175)
(34.6%)
1%
Lease
$25,000,000
$ 0
($25,000,000)
(100.0%)
0%
Investment Income
$ 940,802
$1,737,653
$796,851
84.7%
1%
 
Total Revenue
$ 118,429,488
$ 144,629,919
$ 26,199,631
22.1%
100%
 
Expenditures
RTA Development Fund Projects
$ 109,944,526
$ 128,830,215
$ 18,885,689
17.2%
95%
RTA Capital Fund Projects
3,349,606
3,631,654
282,048
8.4%
3%
Other
0
472,559
472,559
 
0%
Transfer to Bond Retirement Fund
510,386
2,113,000
1,602,614
314.0%
2%
 
Total Expenditures
$ 113,804,518
$ 135,047,428
$ 21,242,910
18.7%
100%
 
Revenue/Expenditures
$ 4,624,970
$ 9,581,691
 
 
 
Balance Jan. 1
$ 21,679,257
$ 26,304,227
 
 
 
Balance Dec. 31 (Less Reserve Funds)
$ 26,304,227
$ 35,885,918
 
 
 
RTA People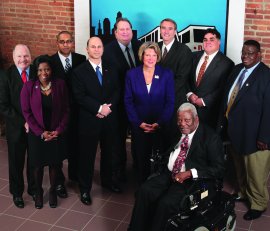 Mayor, City of Cleveland Heights; Vice President
President, Disabled Rights Task Force, Inc.
Former Mayor of Cleveland
Chief of Government Affairs, City of Cleveland
Executive Management Team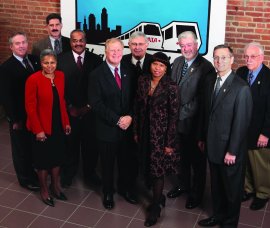 Chief Executive Officer, General Manager/Secretary-Treasurer
General Counsel, Deputy General Manager, Legal Affairs
Director, Marketing & Communications
Executive Director, Office of Management & Budget
Executive Director, Internal Audit
Deputy General Manager, Human Resources
Deputy General Manager, Finance & Administration
Deputy General Manager, Engineering & Project Management
Executive Director, External Affairs
Deputy General Manager, Operations
Eugene & Jacqueline Thompson
RTA Facts
Annual Operating Budget
$241.8 million in 2008
Employees
2,577 in 2008
Ridership
57.9 million passenger trips
Service Area
458 square miles
59 municipalities
1.3 million people
Bus Service
549 buses, trolleys and circulators
1,354 shelters
8,557 bus stops
92 routes
20.1 million service miles
Rail Service
2.9 million service miles in 2007
Red Line Rapid Transit
60 heavy-rail cars
18 stations
19 miles of one-way track
Blue/Green Line Rapid Transit (Includes Waterfront Line)
48 light-rail cars
34 stations
18 miles of one-way track              Paratransit:
80 vehicles
513,500 passenger trips in 2008
Community Circulators
38 vehicles
12 routes
1.7 million service miles in 2008
Parking Lots
8,855 spaces
Downtown Trolleys
2 routes
11 vehicles
Bus Rapid Transit (BRT) Service
1 route on Euclid Avenue and Public Square
9.4 miles of bus-only lanes
20 Rapid Transit Vehicles (RTVs)
59 stations and 3 platform stops
    fully operational in late 2008
RTA-Owned Bridges
85 bridges
1 tunnel
RTAnswerline, 216-621-9500
More than 1.13 million calls in 2008
RTA Web Site, www.rideRTA.com
More than 1.28 million visitors viewed 8.7 million pages in 2008
Commuter Advantage program
445 employers
10,474 commuters
$6,300 estimated savings per commuter
Mission Statement
To provide safe, reliable, clean and courteous public transportation.