Connections from colleges to calzones.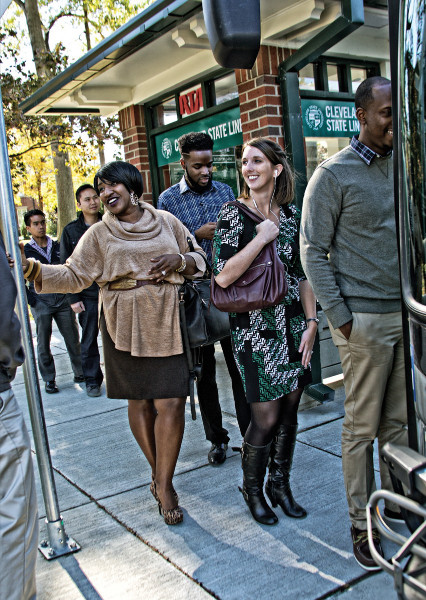 RTA delivered over 47 million rides in 2015, providing riders with a safe, reliable, clean, and courteous trip to work, school, the big game, a night out, and every where in-between. After five consecutive years of system-wide ridership growth, RTA experienced a slight decrease in overall ridership in 2015. Main contributors to the decline were low gas prices, ongoing citywide road construction projects, as well as a slow start to the year due to a long and snowy winter. However, RTA also experienced sustained growth in a number of key service lines and programs that bode well for a strong future.
Despite numerous capital improvement projects along the rail lines to ensure a healthy infrastructure, total rail ridership climbed to over 9 million in 2015—an increase of over 64,000 riders from the previous year. The primary factor of this success was the Red Line, which delivered over 6.4 million passenger trips—a year-to-year increase of nearly 4%.
A portion of the Red Line's success is directly attributed to the opening of the new Little Italy-University Circle Rapid Station—a direct link to both neighborhoods from Eastside and Westside communities. The station opened on August 11th, which was just in time to serve the large crowds attending the annual Feast of the Assumption. And it has since seen a ridership increase of over 100% compared to the East 120th Station it replaced—all of which points to a strong outlook for the station in 2016 and beyond.
2015 marked the Cleveland State Line's first full year of service, connecting West Shore communities with Downtown Cleveland. The newly branded line features the introduction of 16 enhanced 60-foot articulated buses with double capacity, as well as bus-only rush-hour lanes that ensure service every 5–10 minutes. With a ridership increase of 32% compared to the routes it replaced, customers have clearly taken notice.
Last year, RTA celebrated 10 years of the Downtown Cleveland Trolleys—a service that has been a huge hit with riders. Since launching, ridership has increased by over 75%, and the Trolleys now serve over 1.5 million riders annually, further proving their worth as a valuable asset to Downtown residents and visitors alike.
As the quickest connection between Downtown and University Circle, the HealthLine continues to be a catalyst for growth along Euclid Avenue. Last year, the service delivered nearly 4.5 million customer trips. And even though total ridership was down from 2014, the HealthLine's long-term trend is strong—with a 71% increase in ridership since it launched in 2008. It's clear the HealthLine's positive impact in the community will continue to get stronger into the future.
The U-Pass program provides discounted, universal RTA passes to students at six participating universities in the Cleveland area. Not only is it a perfect solution for urban universities experiencing issues with parking capacity, but it also provides students with an easy, sustainable, and economically efficient option to class—while allowing them the opportunity to do homework, sleep, or catch up on social media. In 2015 alone, U-Pass was responsible for nearly 2
million rides. RTA is proud of the program's success and will continue developing long-lasting relationships with the next generation of riders.
Thanks to areas of growth from the new Little Italy-University Circle Rapid Station and the Cleveland State Line, from the established stability of strong services like the Trolleys and the HealthLine, and from innovation like the U-Pass program, RTA is headed toward a bright future.
New lines. New lanes. New Little Italy Station.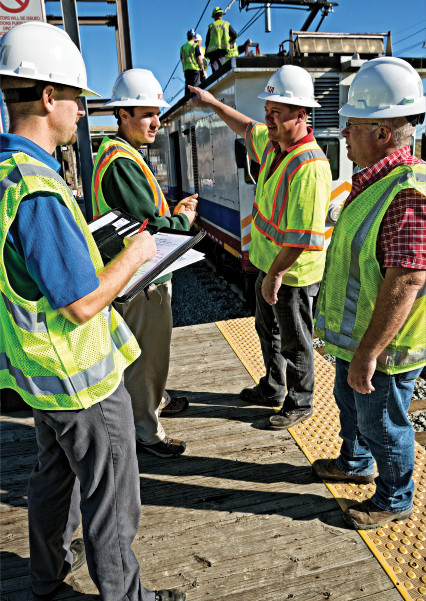 At RTA, one of the pillars to a successful future is a healthy infrastructure. In 2015, the Authority strengthened its world-class system by completing major construction projects, breaking new ground, and continuing to enhance existing assets—all of which support ridership and service growth.
In August, RTA held the ribbon-cutting ceremony for the brand new $15.6 million Little Italy-University Circle Rapid Station—which marks its first new Red Line station in 46 years. The site of the new station was originally constructed by the Van Sweringen brothers in the 1920s, with the goal to bring a future rail line to the area. Their dream was ended by the Great Depression, but the new Little Italy-University Circle Station has made their vision a reality over 90 years later. As a replacement to the East 120th Street Station, the location acts as the new gateway to both neighborhoods—providing easy and direct access from communities on the Westside and Eastside. It also features new amenities that riders enjoy—new sidewalks, landscaping, lighting, a refurbished bridge, as well as ADA accessibility, and a design that complements the historic neighborhood and includes local artwork. This station is truly a state-of-the-art alternative to Little Italy's parking headache.
The reconstruction of Lee-Van Aken Rapid Station broke ground in June 2014. And after 18 months, it was reopened to the public as a newly modeled $5.4 million Blue Line Station—one of the Eastside's busiest rapid stations, and a critical link to Downtown. It features a modern design that complements the neighboring architecture, new weather-protected entrances, ADA accessibility, and loading platforms for a more comfortable wait.
2015 marked year three of the five year Bus Replacement Program. Last fall, RTA welcomed 90 new Compressed Natural Gas (CNG) buses to replace the current diesel buses. The customer feedback has been overwhelmingly positive due to the sleek, modern design and comfortable, quiet ride. For the program's remaining years, RTA plans to replace a total of 240 diesel buses with CNG. In addition to aesthetics and comfort, the new fleet will provide significant annual fuel savings, and each vehicle will reduce annual emissions by 100 tons of Carbon Dioxide Equivalent compared to the current diesel buses.
On April 9th, RTA broke ground on a $16.5 million construction project to develop a new Brookpark Red Line Rapid Station—the first stop from the airport to Downtown. The results will be a fully ADA-compliant station with upgrades to the existing tunnel, as well as a new elevator core, rail platform, public art installations, and passenger waiting areas. It's scheduled to open prior to the Republican National Convention, so members will be welcomed with a fresh, modern design the city can be proud of.
In 2015, RTA also demonstrated its commitment to a State of Good Repair for its diverse capital assets. The Red Line, which provided over 6.4 million customer trips last year, underwent necessary track and bridge upgrades to ensure maximum longevity and efficiency. In addition, riders are already experiencing the benefits of a $23.7 million Red Line vehicle makeover project, which will be completed in early 2016. This two-year process will result in 40 refurbished Red Line cars with new windows, LED lighting, upgraded seating, new flooring, and additional ADA space—extending the life of the fleet by 10–15 years.
RTA continues to be fully committed to expanding and enhancing its infrastructure to ensure a bright future for the Authority—and its customers.
Smoothing out the operation at a rapid pace.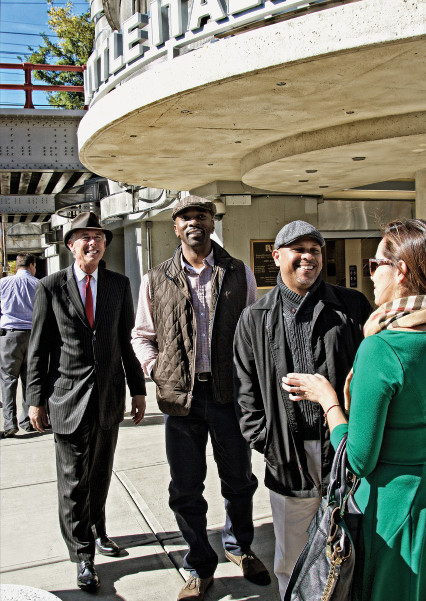 RTA's on-going mission is to grow and provide safe, reliable, clean, and courteous public transportation. In 2015, it raised the bar once again, thanks to newly branded routes to streamline efficiency, new stations to improve the rider's experience, and service adjustments to meet public demand. And with positive feedback from customers, RTA is confident in today—and on track for an even stronger tomorrow.
The Cleveland State Line is more than a replacement for the #55 family of routes—it's a major enhancement. The service includes 16 new, 60-foot articulated buses with double rider capacity, consolidated bus stops, bike racks, and NextConnect real-time information. Plus, the route features bus-only rush-hour lanes to ensure maximum efficiency, new brick stations with interior lighting, and bus stop signs that detail route information—all of which has improved the rider's experience and led to a stronger community connection from the West Shore to Downtown.
The Little Italy-University Circle Rapid Station opened in August and immediately solved the historic area's biggest challenge—parking. Now, riders can park for free at one of RTA's many Eastside or Westside rapid stations and connect directly with the thriving neighborhoods seven days a week until 1 a.m.
In 2015, the Flats East Bank returned as Cleveland's latest hot spot—with new residential and office space, trendy restaurants, live entertainment, and hotels. RTA quickly responded to meet ridership needs with extended service hours on the Waterfront Line. Trains now directly connect to the area seven days a week until midnight, so customers can enjoy a fun night out—without parking.
RTA's transit mission goes beyond vehicles. In fact, towards the end of last year, the Authority began the replacement of the 25-year-old escalators at Tower City Center Station—its hub and highest traffic area. The $2.87 million project will provide new long escalators completed just before St. Patrick's Day. The new short escalators, which are currently open during construction, will be finished in time to greet large crowds from the Republican National Convention (RNC).
Every RTA enhancement is made with the customer in mind. In 2015, RTA conducted customer satisfaction surveys for all its major modes of transportation—and the results were overwhelmingly positive. The ratings for the majority of the service lines ranged from 85% to 95%. The Cleveland State Line and Park-N-Ride were both rated over 90%, while the free Trolley service shined with a 98% approval rating. Another encouraging result is that nearly all Cleveland State Line and Trolley riders have or are more than willing to refer others to ride.
With such overwhelming popularity, RTA is bringing in 12 new Trolleys for 2016. Federal funding for the new vehicles was accelerated thanks in large part to the upcoming Republican National Convention. The new Trolleys will enhance the visitor experience with nearly 20% more ridership capacity and will be added in time to accommodate the RNC's anticipated demand—and to benefit the community well into the future.
2016 will be a year of planning for a sustainable future. With help from recent customer research and annual ridership data, RTA can begin optimizing service size for operational efficiency to benefit its customers—as well as its community.
 
Minimizing our carbon fleet-print.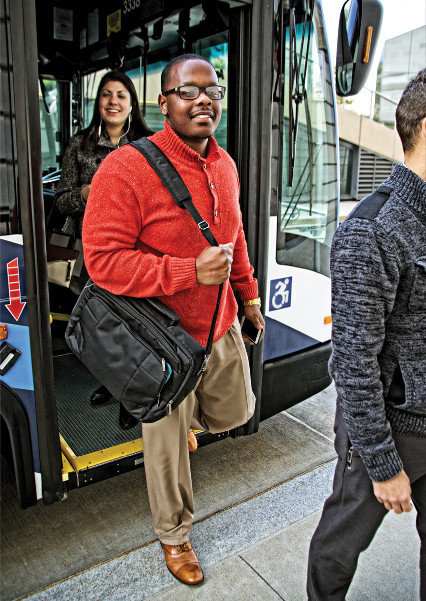 Sustainability is one of RTA's guiding principles, and reducing the overall number of automobiles on the road is just the beginning of its mission. The Sustainability Strategy implemented at RTA addresses how to properly use resources to meet sustainable goals for positive environmental, economic, and societal impacts.
One of RTA's primary responsibilities is to monitor and optimize its impact on the environment. To meet these goals, RTA implemented key improvements to reduce its carbon footprint through system-wide optimizations, which decreased mobile emissions by 10%—resulting in an overall rate of displacement of 37,523.63 tons of CO2e in 2015. These improvements include investments in alternatively fueled fleets, energy price risk management, and integrating best practices from the APTA Sustainability Committee, Greenhouse Gas Protocol and ISO Quality Management & Leadership principles.
In 2015, RTA made changes to its fleet that will have a long-lasting positive impact on the environment—as well as the Authority's budget. In its third year of the Bus Replacement Program, RTA welcomed 90 new Compressed Natural Gas (CNG) vehicles to begin replacing the current diesel fleet. The modern buses will reduce emissions by 10% each year, with each vehicle decreasing annual emissions by 100 tons of CO2 equivalent compared to the current fleet. The CNG buses also receive up to four more miles per gallon at a much lower fuel cost than diesel. The ultimate goal of the program is to replace 240 diesel buses with alternatively fueled vehicles. In addition, 20 new propane-fueled Paratransit vehicles hit the streets last fall—providing another cleaner and sustainable fuel alternative.
To accommodate RTA's new fuel diversified fleet, natural gas stations were installed at the Hayden Garage, as well as a propane station at the Paratransit garage. And in order to house and meet operational needs of additional CNG vehicles in the future, RTA plans to install natural gas fueling stations at the Triskett Garage by 2017.
As a result of fleet improvements and proactive price risk management strategies, energy consumption was reduced again in 2015. Thanks to declining fuel prices and new CNG buses, RTA was $2.6 million under budget for diesel costs in 2015. And with natural gas for facilities and buses price-locked through 2017 and diesel fuel price-locked through 2018, the future for RTA's financial sustainability is bright.
To reduce electricity consumption at major facilities, RTA instituted an Energy Price Risk Management Program in 2010. Since implementation, RTA has trimmed electricity costs by over $14 million. Just last year, energy consumption was reduced over 30% in kWh—leading to a 10% decrease in tons of CO2e emitted since 2014. As facilities are upgraded and employee behavior changes, RTA is continuing to consume fewer resources from the grid.
In December, RTA secured ISO 14001:2004 Certification of the Central Bus Maintenance Facility—registering the facility with Intertek as a system that meets all requirements for quality leadership and management practices regarding sustainability and environmental programs. Moving forward, RTA will seek additional certifications for other facilities.
RTA also conducted its first Materiality Assessment in 2015 to develop a five-year sustainability plan that aligns with its overall strategy. Thanks to the Authority's dedication to energy reduction, the American Public Transit Association recognized RTA as an APTA Sustainability Commitment Bronze Level member in 2015—with intentions to apply for Silver Level honors in 2016.
Every facet of RTA's operation works hard to reduce the community's carbon footprint—making RTA a champion of sustainability.
A year of rocking, rooting, and riding.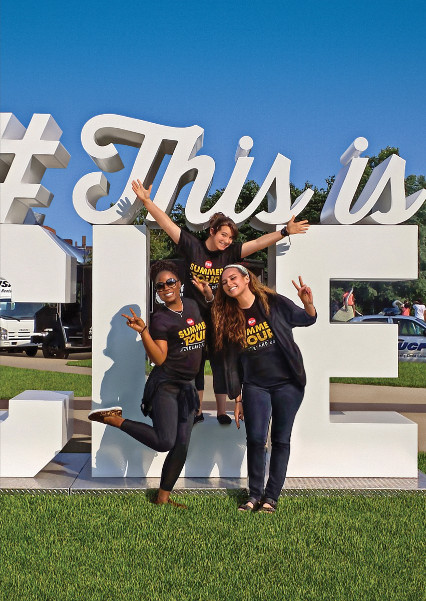 RTA is more than a transit authority. It's an employee's train to work. A student's bus to school. An out-of-towner's Trolley to the game. So in 2015, RTA reached out to the community to connect the city on a deeper level.
The RTA Summer Tour hit the streets of Cleveland in 2015, complete with a tour bus, street team, prizes, and more. It started by partnering up with 17 of the area's finest local restaurants and entertainment venues to promote the Tour—including Melt Bar & Grilled, Cleveland Metroparks Zoo, Happy Dog, and Cleveland Cinemas. The promotion encouraged all Clevelanders, from college students to professionals to families and everyone in between, to explore our town on RTA. To sum up, it was a rockin' success.
Last summer, RTA's street team attended over 40 local events—including Wade Oval Wednesdays, Edgewater Live, and Cleveland Indians Friday and Saturday home games. The team engaged with tens of thousands of people by encouraging them to start their own Cleveland tour on RTA. And with live games, prizes, free t-shirt giveaways, online contests to win larger prizes, and discounts at partner locations, the community was more than ready to participate.
2015 marked the 4th Annual RTA Search the City Scavenger Hunt. 200-plus participants rode RTA's vast service options around town, completing various challenges and finding clues to their next destination—connecting competitors to places like Heinen's Downtown, Great Lakes Science Center, Gallucci's Italian Foods, and Hingetown in a fun and memorable way. The winners were given prizes, and everyone was treated to an after-party and concert at the Cleveland Agora.
RTA once again hosted its Annual Fourth of July Family Fest at Settlers Landing in the heart of Cleveland's newest hot spot—Flats East Bank. Thousands of people were treated to food, music, giveaways, and most importantly, the best fireworks view in the city.
Cleveland has the best fans in all of sports, and RTA was cheering right alongside them in 2015. The Authority teamed up with the Cavs during the play-off push to give fans in Loudville all-you-can-eat food, drinks, and an RTA farecard to the game—all within a family-friendly budget. Also last summer, RTA united with the Indians for a pre-game concert series in the new Neighborhood District of the ballpark. The events used great music, local flavors, and prizes to pump up fans. And when the Browns took the field in the fall, RTA hosted huge tailgate parties in the Muni Lot before every home game—which featured Mark "Munch" Bishop from ESPN Cleveland as the emcee, free grilled hot dogs, and plenty of tailgate games for riders.
The RTA family also made an enormous positive impact by giving back to the community out of their own pockets. In 2015, RTA's 2,400 employees generously donated over $150,000 to charities like United Way, United Negro College Fund, Cleveland Community Shares, and Environmental Fund.
2015 further strengthened the relationship between RTA and Cleveland, proving that RTA is more than just a transit authority. And with new events planned, as well as the Republican National Convention coming to town in the summer, 2016 promises to be another great year.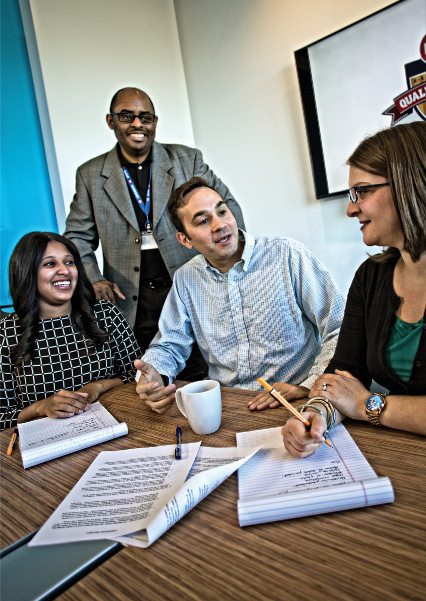 RTA's mission to provide safe, reliable, clean, and courteous public transportation begins with each employee. That's why RTA strives to create a strong sustainable future by training, educating, and engaging with employees every single day. When you combine this with the implementation of new programs, individual accolades, and public notoriety, 2015 was another huge year for the Authority's employees.
In 2015, RTA launched the Mission, Vision, Values (MVV) program—which clearly establishes the Authority's expectations for its 2,400 employees. The program was designed to ensure that every employee is delivering on the same overall goal. To kick it off, RTA's marketing team held a lunch event at each main employment center that included a presentation to introduce the program. With banners and signage at all employee buildings, screensavers that feature Values on all company computers, and personal MVV handbooks and lanyards for each employee, RTA strives to keep its commitment to its Mission, Vision, and Values strong.
A great organization is always rooted in great leadership—and RTA is no exception. Guided by an experienced CEO and General Manager in Joe Calabrese, an exemplary Executive Management Team, and a strong Board of Trustees, RTA is in great hands. In his 16 years as RTA's CEO and General Manager, Joe and his team have been committed to building a model of world-class public transportation with a strong foundation and sustainable future. And no project shines a light on these goals more than the HealthLine, which is responsible for more than $6 billion of economic growth and has been the gold standard for Bus Rapid Transit development—resulting in numerous accolades and international attention. In 2015, Joe Calabrese was also named one of the nine "Public Officials of the Year" by Governing Magazine for his work in launching the HealthLine and its success. He is the first ever public transit general manager to be honored. This year, he shares the prestigious award with California Governor, Jerry Brown, Kentucky State Senate President, Robert Stivers, and New Orleans Mayor, Mitch Landrieu.
Joe Calabrese wasn't the only member of the RTA team to receive acclaim in 2015. Valarie J. McCall, who serves on the RTA Board of Trustees, was elected Chair of the American Public Transportation Association, a key national leadership position. José Feliciano Jr., a member of the RTA management team was recognized as one of Crain's "Forty Under 40" award winners due to his involvement in the community. And Dr. Floun'say Caver was one of nine people in 2015 honored with the Distinguished Alumni Award from Cleveland State University for his exemplary public service as the Director of RTA's Hayden District.
In 2013, The Public Transit Management Academy (PTMA) was established with the goal to develop the next generation of leaders at RTA. This joint effort between RTA and Cleveland State University helps participants grow their leadership skillset by solving real transit problems in innovative ways. Since launching, 79 RTA employees have graduated and nearly one-third have been promoted.
With so many great things happening at RTA in 2015, it's no surprise that Smart Business Magazine named it one of the 50 Smartest Organizations in Northeast Ohio—which is a testament to its team's innovation and the positive impact RTA has on the community.
RTA's employees shined in 2015, and the Authority is already building on this momentum for a stronger future.
Year-End Financial Report
RTA managed very well from 2010 to 2014 and achieved a nearly stable financial position. But, despite the recent success, Fiscal Year (FY) 2015 struggled with declining revenues and increasing fringe benefits.  RTA knows that ultimate success is the longevity of a strong fiscal position. That is why RTA is focused on making sure the decisions made today have a positive impact now and into the future.
Total Resources ended the year $0.3 million above budget at $308.3 million. There was an increase but it was less than had been experienced in recent years. This gain was led by Sales & Use Tax revenue. Sales Tax receipts represent RTA's primary funding source, covering between 70-75% of the operating revenue budget. Sales & Use Tax revenue in 2015 was $205.8 million, up 4.4% versus 2014, and the first year Sales & Use Tax reached the $200 million level.  Passenger Fare collections, the second largest source of operating revenue, ended the year at $48.4 million, a drop of 1.4% from 2014. With gas prices very low, more people are choosing to drive and ridership declined. An additional $2.1 million of funding for force account labor and other grant reimbursements was not received by December 2015 but will be received in early 2016.
RTA experienced a rise in year-to-year operating expenditures from $248.1 million in 2014 to $251.7 million in 2015. This is a 1.5% increase.  Fringe benefits increased by 6.9% from 2014 to 2015, the majority of which was due to health care and prescription costs. Personnel costs (labor and overtime) increased only 1.4% from 2014.  Diesel Fuel costs decreased from 2014 to 2015 due to declining fuel prices and a reduction in the number of gallons used due to the incorporation of CNG buses into the fleet.  RTA instituted an Energy Price Risk Management Program in 2010 to stabilize fuel costs and reduce electricity costs. Both have been very successful. Diesel costs were $2.6 million under budget in 2015 and RTA has reduced costs for electricity by over $14 million over the last five years. Natural gas for facilities and buses is completely hedged through 2017. Diesel fuel is fully hedged through the end of 2018.
Recent years of a strong Capital Fund has put RTA in a great position to complete projects and continue planned construction. In 2014, the fund contributed to the completion of the Clifton Boulevard Enhancement Project and Cedar-University Red Line Station, while also funding the current Little Italy-University Circle Red Line Station and Van-Aken Lee Road Blue Line Station, which will see completion in 2015. RTA has determined that it must spend at least $75 million a year to maintain a state of good repair. In 2015, $102.9 million was expended.
In 2014, RTA began to reap the benefits of the Bus Improvement Program, which was implemented in 2013. In year two of the five year bus and Paratransit replacement program, RTA received 23 new 60-foot articulated buses for the new Cleveland State Line, 20 new propane-fueled Paratransit buses, and upgraded the bike racks for the bus fleets. In 2015, RTA received the first order of 90 forty-foot Compressed Natural Gas (CNG) buses. The ultimate goal is to replace current diesel buses with 240 new CNG vehicles over the next five years.
Financial Indicators are another measure of RTA's financial strength. There are a total of six indicators, with an established Board Policy Goal.
The Board Policy Goal for Cost per Hour of Service is to be under the rate of inflation (about 2%). In 2015, the Cost per Hour of Service totaled $139.8, a 13.1% increase from 2014. Service hours decreased from 1.9 million hours in 2014 to nearly 1.8 million hours in 2015, whereas operating expenses increased by 1.5%.
At the end of 2014, the Operating Reserve was at 1.3 months.  With the decrease in revenues of nearly $4 million and increase of fringe benefits in 2015, the ending balance fell by $8 million from 3rd quarter projections. The target of greater than one month was difficult to achieve in 2015 and ended the year with a 0.8 month reserve.
The Debt Service Coverage indicator, measuring capital efficiency, also achieved a 6th consecutive year of meeting Board Policy Goal. The 2015 year-end ratio of 1.79 was above the 1.5 minimum and was higher than the budgeted level of 1.59—a result of an increase in operating resources available for debt service coverage.
After falling within the Board Policy Goal range of 75-90% in 2013, Capital Maintenance to Expansion Outlay fell outside the targeted range at 95.7% in 2014 and again in 2015 at 98.9%. The goal outlines a balance between maintenance of existing assets and expansion efforts. In 2015, RTA sustained the strong focus to maintain existing assets versus new expansion.
The Sales Tax Contribution to Capital indicator has been above Board Policy Goal since 2005, as the transit authority continues to invest more of its own funds in capital projects relative to its available resources. In 2015, this trend continued with the Sales Tax Contribution to Capital ending the year at 18.5%, below the budgeted level of 19.2%, but above the maximum Board Policy Goal of 15%.
Operating Ratio fell short of the Board Policy goal of 25% or greater. Comparing operating expenses to operating revenues, the year-end ratio for 2015 was 19.9%, below both the budget and policy goal.
In summary, only one of the financial indicators was met.  The lag in revenue reimbursements and increase of fringe benefits spiraled the 2015 ending balance from $25.6 million at the end of 3rd Quarter to $16.9 million by year end.
The financial picture worsened in 2015. The increase in revenue growth slowed. Expenses went up by 1.5% but the growth in expense in the fourth quarter was significant. The Fund balance declined and will make what was a difficult 2016 a little more challenging.  RTA's fiscal discipline and strategic vision has helped to produce a strong financial position for the last five years.  Maintain a reasonable financial situation in the future for the authority, its customers, and the community will be the challenge for 2016 and beyond.
General Fund
 
2014 Actual
2015 Actual
$ Change
% Change
% of Total
REVENUE
Passenger Fares
$49,085,267
$48,419,211
$(666,056)
(1.4%)
17.2%
Advertising/Concessions
1,488,870
1,442,677
(46,193)
(3.1%)
0.5%
Investment Income
169,211
153,534
(15,677)
(9.3%)
0.1%
 
Total Operating Revenue
$50,743,348
$50,015,422
$(727,926)
(1.4%)
17.8%
 
Sales/Use Tax
$197,118,776
$205,843,321
$8,724,545
4.4%
73.1%
Grants
2,470,656
920,570
(1,550,086)
(62.7%)
0.3%
Other
23,557,030
24,633,837
1,076,807
4.6%
8.8%
 
Total Non-Operating Revenue
$223,146,462
$231,397,728
$8,251,266
3.7%
82.2%
 
Total Revenue
$273,889,810
$281,413,150
$7,523,340
2.8%
100%
 
OPERATING EXPENDITURES
Labor/Fringe
$181,305,658
$186,608,791
$5,303,133
2.9%
64.0%
Materials/Supplies
16,561,098
19,005,108
2,444,010
14.8%
6.5%
Fuel/Utilities
23,859,266
20,443,407
(3,415,859)
(14.3%)
7.0%
Services
11,756,274
12,454,651
698,377
5.9%
4.3%
Purchased Transportation
8,352,720
7,824,913
(527,807)
(6.3%)
2.7%
Liabilities
4,921,443
3,925,288
(996,155)
(20.2%)
1.4%
Other
1,301,297
1,398,773
97,476
7.5%
0.5%
 
Total Operating Expenditures
$248,057,756
$251,660,931
$3,603,175
1.5%
86.4%
 
Transfer to Insurance Fund
$900,000
$1,500,000
$600,000
66.7%
0.5%
Transfer to Pension Fund
100,000
100,000
0
0.0%
0.0%
Transfer to Bond Retirement Fund
20,480,914
22,615,956
2,135,042
10.4%
7.8%
Transfer to Capital Improvement Funds
15,874,745
15,509,273
(365,472)
(2.3%)
5.3%
 
Total Non-Operating Expenditures
$37,355,659
$39,725,229
$2,369,570
6.3%
13.6%
 
Total Expenditures
$285,413,415
$291,386,160
$5,972,745
2.1%
100.0%
 
Revenue/Expenditures
$(11,523,605)
$(9,973,010)
 
 
 
Balance Jan. 1
$38,394,322
$26,870,717
 
 
 
Balance Dec. 31 (Less Reserve Funds)
$26,870,717
$16,897,707
 
 
 
Capital Fund
 
2014 Actual
2015 Actual
$ Change
% Change
% of Total
REVENUE
Federal Capital Grants
$58,199,720
$75,819,587
$17,619,867
30.3%
62.1%
State Capital Grants
2,046,063
534,487
(1,511,576)
(73.9%)
0.4%
Local Sources 
15,874,745
15,509,273
(365,472)
(2.3%)
12.7%
Other
72,916
9,000
(63,916)
(87.7%)
0.0%
General Obligation Debt Proceeds
0
30,000,000
30,000,000
 
24.6%
Investment Income
67,238
207,421
140,183
208.5%
0.2%
 
Total Revenue
$76,260,682
$122,079,768
$45,819,086
60.1%
100%
 
Expenditures
RTA Development Fund Projects
$87,047,437
$99,609,466
$12,562,029
14.4%
96.8%
RTA Capital Fund Projects
4,435,246
3,290,774
(1,144,472)
(25.8%)
3.2%
Other
 
0
 
 
 
Transfer to Bond Retirement Fund
 
0
 
 
 
 
Total Expenditures
$91,482,684
$102,900,241
$11,417,557
12.5%
100%
 
Revenue/Expenditures
$(15,222,002)
$19,179,527
 
 
 
Balance Jan. 1
$40,656,566
$25,434,565
 
 
 
Balance Dec. 31 (Less Reserve Funds)
$25,434,565
$44,614,093
 
 
 
RTA People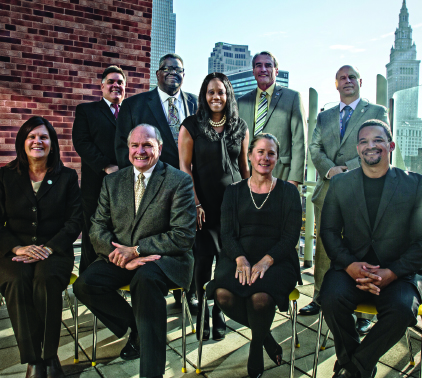 Mayor, City of Westlake; Vice President
Chief of Government and International Affairs, City of Cleveland
Cleveland Immigration Attorney
Mayor, City of East Cleveland
Executive Director, Office of Institutional Advancement, Cleveland Metropolitan School District
Mayor, City of South Euclid
Executive Management Team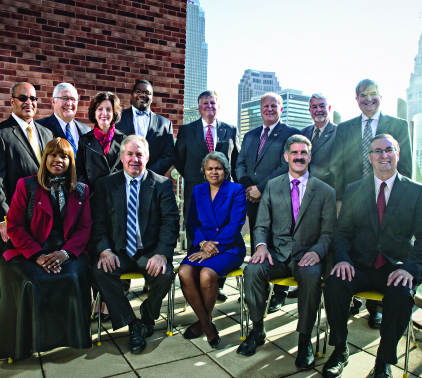 Chief Executive Officer, General Manager
Chief Information Officer
General Counsel, Deputy General Manager, Legal Affairs
Executive Director, Marketing & Communications
Executive Director, Office of Management & Budget
Executive Director, Internal Audit
Deputy General Manager, Human Resources
Government Relations Specialist
Deputy General Manager, Finance & Administration
Deputy General Manager, Engineering & Project Management
Deputy General Manager, Operations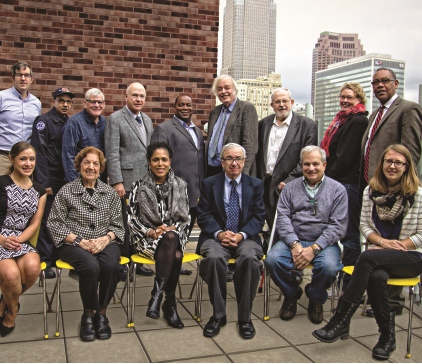 Chair, Transportation Improvement Advisory Committee
RTA Facts
Operating Budget: $251.6 million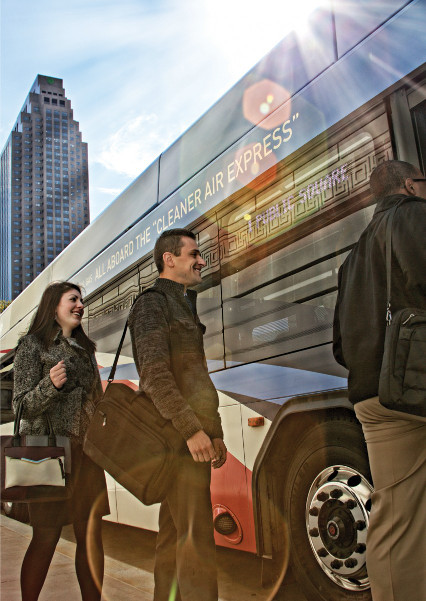 Employees: 2,400
Ridership: 47 million passenger trips
Service Area: 457 square miles, 59 municipalities, 38 cities, 19 villages, 2 townships, 1.26 million people (2014 estimate)
Bus Service: 426 buses, 1,200 shelters, 6,000 bus stops, 60 routes, 14 million revenue miles, more than 37 million annual riders
Rail Service: 3.3 million revenue miles
Downtown Trolleys: 4 routes, 17 vehicles, 1.5 million annual riders
Red Line Rapid Transit: 1 route, 60 heavy-rail cars, 18 high platform stations, 19 route miles of track, more than 6.4 million annual riders
Blue/Green Line Rapid Transit (Includes Waterfront Line): 3 routes, 48 light rail cars, 34 low platform stations, 15.3 route miles of track, more than 2.6 million annual riders
Bus Rapid Transit (BRT) Service: 1 route on Euclid Ave. and Public Square, 1 route on Clifton Blvd., 13.4 miles of bus-only lanes, 40 Rapid Transit Vehicles (RTVs), 78 stations and 3 platform stops, 5 million riders annually
Paratransit: 80 RTA vehicles, 70 contracted vehicles, 702,526 passenger trips
Parking Lots: 8,800 free spaces
RTA-Owned Bridges: 85 bridges, 1 tunnel at Cleveland Hopkins International Airport
RTAnswerline: 216-621-9500, 430,775 calls were answered
Commuter Advantage Program: 14,200 commuters from 763 employers, $9,000 estimated savings per commuter, $14.7 million annualized revenue
Website: More than 1.3 million visitors viewed more than 18.6 million pages at www.rideRTA.com
NextConnect: Nearly 76,000 visitors, 1.9 million real-time requests, 2,922 subscribers at nextconnect.riderta.com
Facebook: 15,700+ fans like us
Twitter: 7,052 persons follow us at @GCRTA
Instagram: 447 followers at rideRTAcleveland
e-Newsletter: 6,500 subscribers
Commuter Alerts: 4,903 subscribers
YouTube: 34 videos attracted 22,000 views
LinkedIn: RTA maintains a company profile geared toward the business-to-business audience
Online Store: Sold $198,406 of fare media at www.shopRTA.com
RTA Fleet
RTA has a diversified fleet of 10 unique vehicles specially designed to deliver the best service to customers across the 457 square miles the Authority serves every day. From fuel alternative buses for sustainable impact, to articulated vehicles for maximum capacity, to trains for express travel, the RTA fleet has everything covered.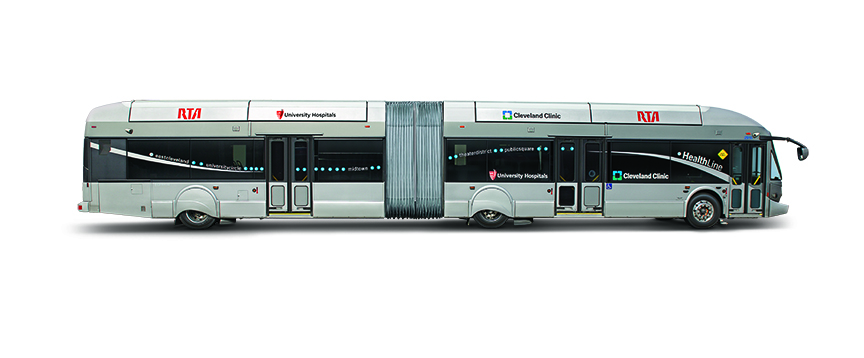 HealthLine (Bus Rapid Transit)

Cleveland State Line (Bus Rapid Transit)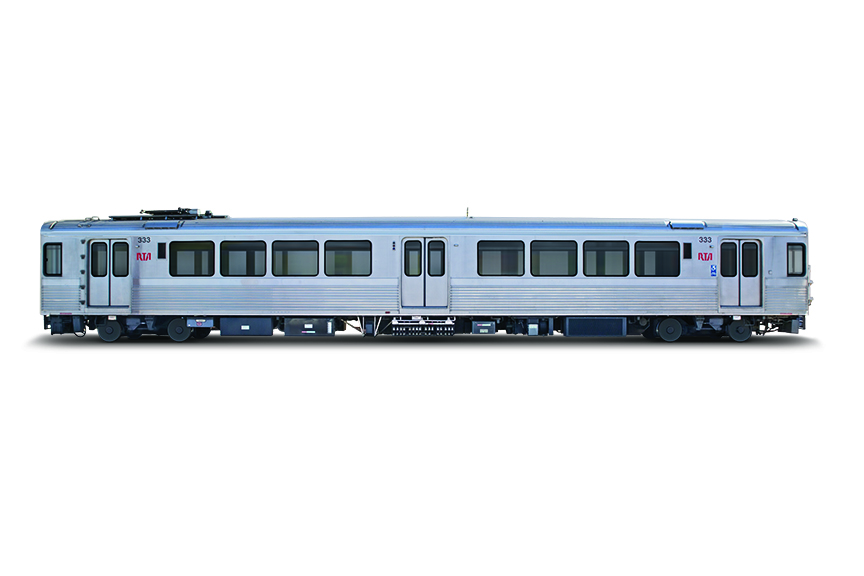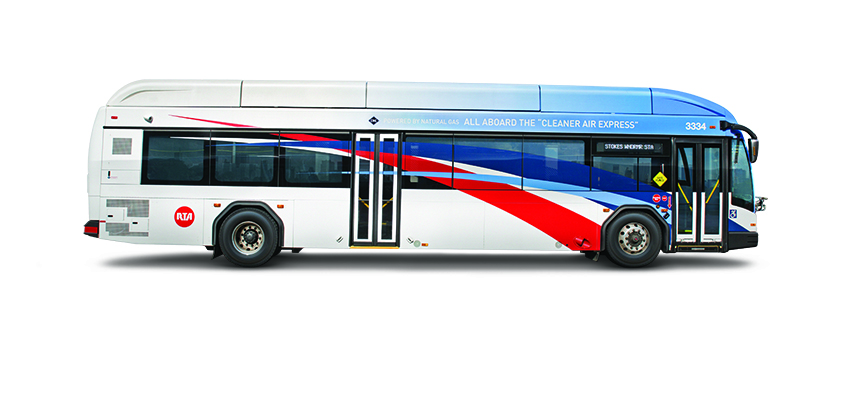 Compressed Natural Gas Bus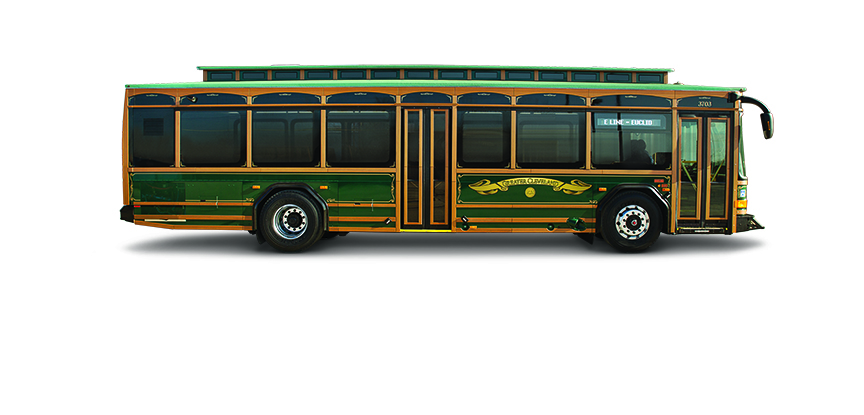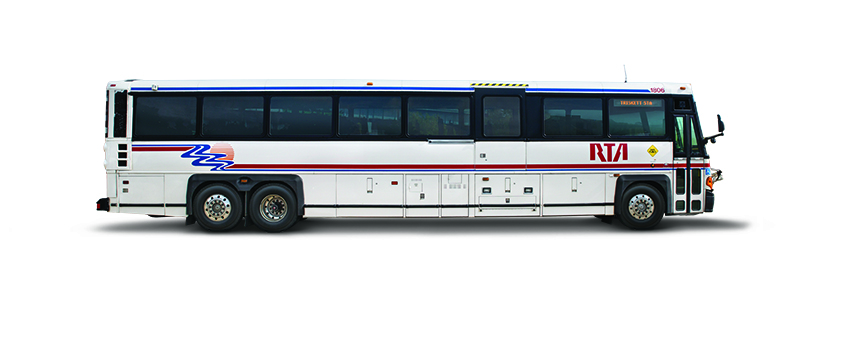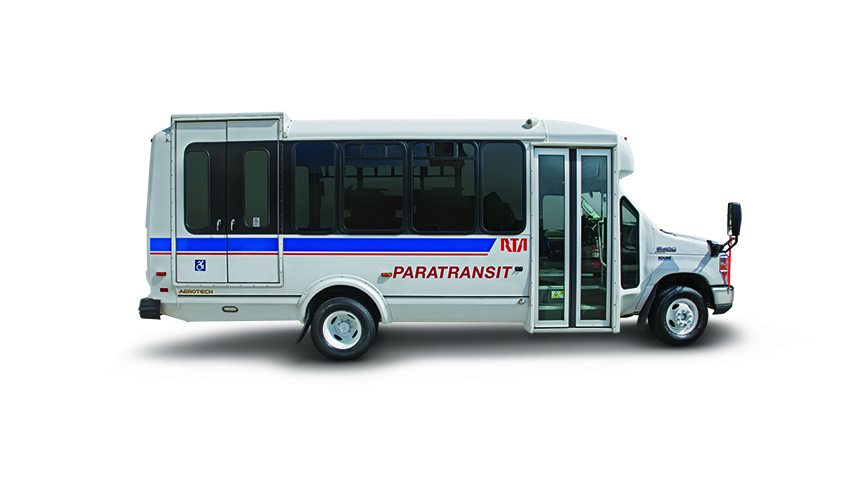 Mission, Vision, and Values
Our Mission, Vision, and Values (MVV) program is more than a sturdy platform that establishes expectations for our team—it's the future of RTA. It ensures that each of our 2,400 employees and all additional new hires are moving towards a single goal. The program not only unites us—it drives us. And with consistent messaging across all platforms to our team, MVV will keep RTA on route to a successful future.
Our Mission
To provide safe, reliable, clean and courteous public transportation.
Our Vision
We will be:
The transportation mode of choice

An industry leader

An employer of choice in Northeast Ohio

A champion for sustainable transportation
We will have:
A sustainable financial position
An increasing impact on regional transportation
We will:
Upgrade and manage technology
Achieve an infrastructure state of good repair
Deliver quality projects on time and on budget
Enhance the value of RTA to our community
Our Values
Safety—The safety of our passengers, our employees and the general public is always our top priority.
Ethics & Integrity—We are dedicated to the highest ethical standards including uncompromising honesty and integrity in our daily activities.
Service Excellence—We will provide safe, reliable, clean, on-time, courteous service that our customers and the community will view as outstanding.
Fiscal Responsibility—We are committed to managing every taxpayer and customer generated dollar as if it were coming from our own pocket.
Teamwork—We believe in teamwork and will foster a spirit of cooperative effort within RTA and with our partners.
Responsibility & Accountability—Every individual is accountable. Meeting our individual responsibilities will ensure that collectively RTA is a high performing organization. We will meet all regulations and commitments and continually strive to improve.
Respect—We will treat all members of the RTA family, our customers and the general public with dignity and respect.
Mission Statement
To provide safe, reliable, clean and courteous public transportation.