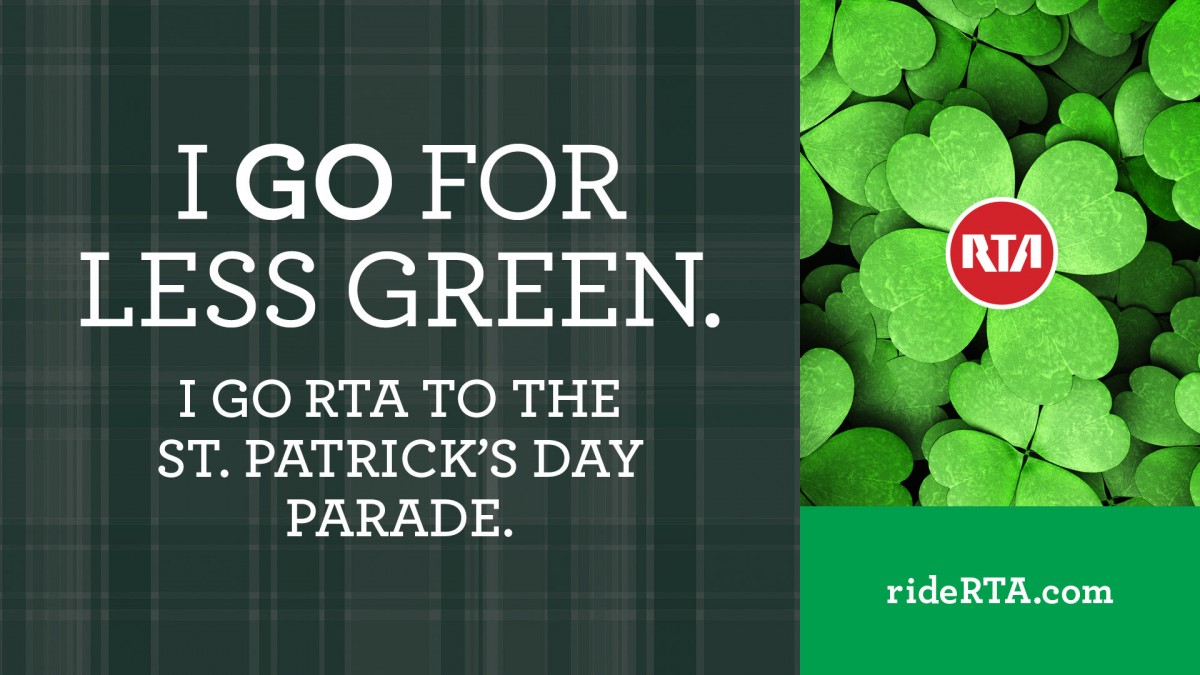 Are you attending Cleveland's most popular event of the year? Why not trust RTA to get you to and from the parade! The first Cleveland St. Patrick's Day parade is guessed to have begun in 1867! Fast forward to 1910 when State Sen. Dan Mooney introduced a bill that would make St. Patrick's Day an official holiday in Ohio. 
For just $5 CASH you can ride RTA Rapid round-trip and have fun at the parade, while also being safe! The 2019 St. Patrick's Day parade is expected to draw thousands of people into downtown Cleveland. RTA goes the extra mile to provide a safe and reliable experience for the holiday crowd, as well as regular customers, with extra capacity on the rail service to handle the additional demand. Here are some helpful tips to ensure you have a safe, enjoyable, and memorable experience this St. Patrick's Day!
Have exact change! Have $5 CASH ready to purchase your round-trip ticket. Keep this ticket safe as you will need to show it on your way back home!
Plan ahead & leave early! Large crowds are expected so give yourself plenty of time to arrive safely.
Ride the Rapid! Trains will leave frequently throughout heavy demand periods. Service runs until midnight.
Ride the HealthLine! Hop on the HealthLine from East Cleveland to Public Square. The HealthLine operates 24/7 so no need to worry about staying out late!
Pack lightly, protect your belongings, and use the buddy system! Leave your valuable items and backpacks at home. Cleveland Police thank you for your cooperation!
Remember that rapid starts running at 4 a.m. so whether you're coming downtown for the parade, catching one of the many bands playing at the bars scattered across downtown, or just spending the day in Cleveland to experience the atmosphere, take advantage of riding the rapid!
Additionally, RTA is partnering with Lyft to get you safely to and from those rapid stations. See below for details:
Promo Code: LYFTGCRTA
Terms and Conditions: Limited quantity available. 10% off your next 2 rides. You have 2 rides remaining. Max savings of $2 per ride. Discount applies to the fare, Prime Time charges, Service fee, tolls, and taxes only. Valid between Mar 17, 2019 and Mar 18, 2019. Pickup or drop-off must be within the coverage area. Cannot be combined with other ride credit or offers. Subject to Lyft's Terms of Service.
Download the Transit app for the latest updates on arrival times! Follow RTA on Twitter and Facebook using #CLEStPats
Gallery