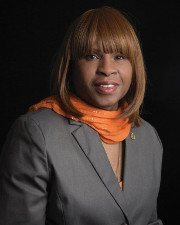 Sheryl King Benford took her seat as Chief Legal Officer of Cleveland RTA in April of 2000. She is driven by over 30 years of legal practice, with 20 spent in the transit industry, and serves in multiple positions: Chief Safety Officer, Chief Ethics Officer, Director of the Legal Department, and Chief Legal Officer. Her well-rounded expertise helps her guide 38 employees, including 9 attorneys, through Legal, Safety, Risk Management, and Claims services. Ms. King Benford was instrumental in helping RTA secure the iconic Tower City Station, serving as an Associate Counsel.
PREVIOUS STOPS
Ms. King Benford graduated Cum Laude with her Bachelor's from Wilberforce University, received her Master's from University of Akron, and her Juris Doctorate from Cleveland State University. She is a graduate of the Harvard University Program for Senior Executives.
Her previous destinations included Private Practice with Bailey, Benford and Associates, Director of Law for the City of Shaker Heights, and Assistant Director of Law for the City of Cleveland. She also served as Assistant Dean at the Cleveland-Marshall College of Law.
COMMUNITY CONNECTIONS
Ms. King Benford serves her community as Chair of the Transit Cooperative Research Program J-05 Panel and as a current member of American Public Transportation Association.
Her work is well respected -- she has been featured in Who's Who in Black Cleveland since 2004, named a Crain's Cleveland Business Woman of Note. She received the Distinguished Alumni Award from the Cleveland State University College of Law, the International Municipal Lawyers Association Distinguished Public Service Award, and the YWCA Woman of Achievement Award. Ms. King Benford was named to the Cleveland-Marshall College of Law Hall of Fame as a "Living Legend".