CLEVELAND, OH - RTA will be hosting an in-person hiring event, specific to positions now available in the Rail Equipment Serving department the week of September 13, 2021.  Events are scheduled for Monday, September 13 at 9:00 a.m. to 11:00 a.m. and from 4:00 p.m. to 6:00 p.m. and on Saturday, September 18, from 9:00 a.m. to 11:00 a.m. All events will be held at RTA's Central Rail Facility located at 6000 Grand Avenue (please enter through the Grand Avenue gate.)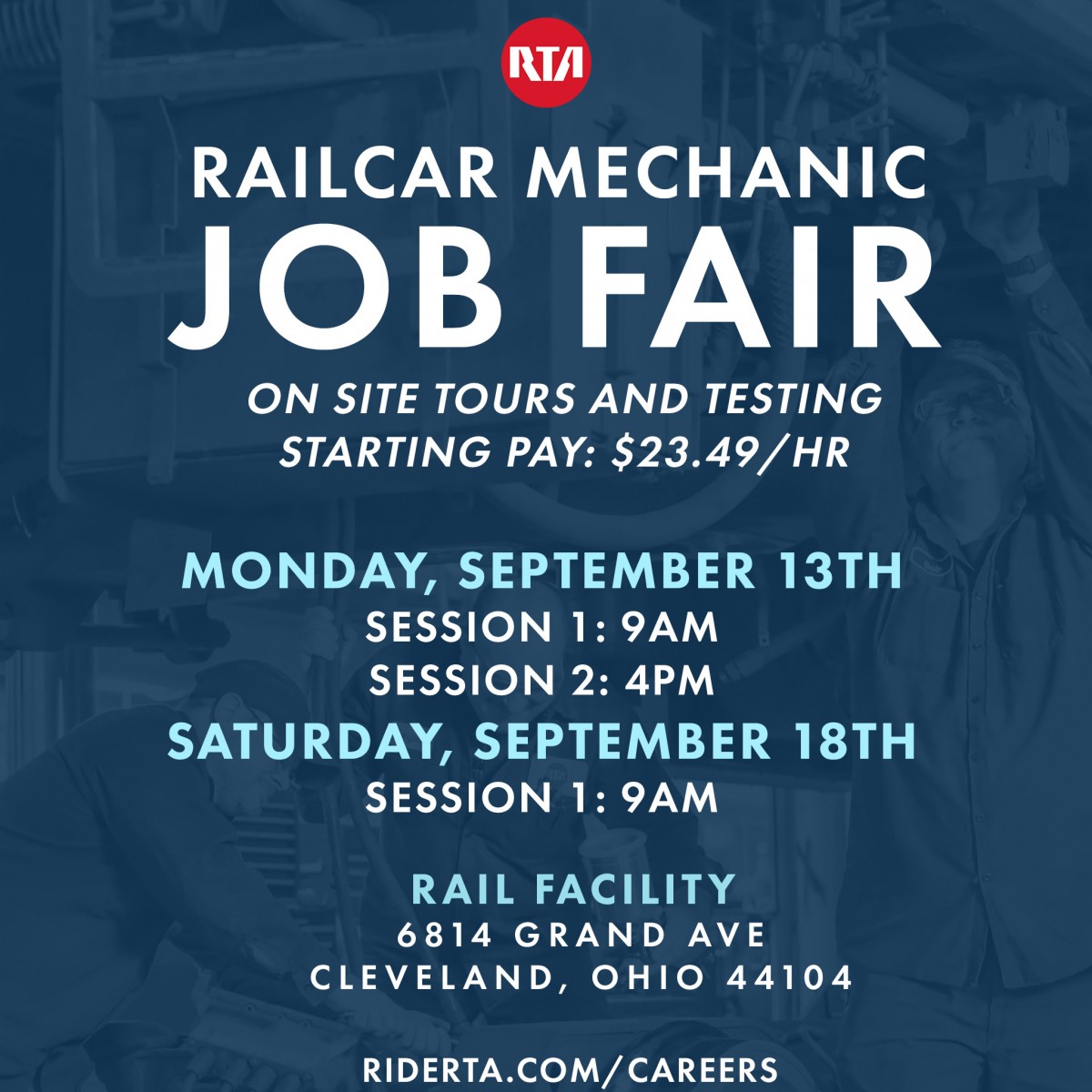 We are specifically recruiting to fill openings for the Rail Equipment Servicer position, which is primarily responsible for the repair of electrical and mechanical rail equipment.
Job functions also include:
Conducting rail equipment inspections,
Diagnosing and repairing electrical rail equipment,
Replacing rail trucks,
Repairing other mechanical rail equipment,
Rebuilding rail equipment parts,
Repairing body damage on rail cars,
and Inspecting and repairing air conditioning and heating systems
Interested candidates should have completed technical courses in mechanical and/or electrical principals or have at least two years of practical experience in vehicle or heavy equipment maintenance and repair.
At the event, interviews will be conducted, a written exam administered and a tour of the Rail Equipment Facility provided. 
For more information regarding the Rail Equipment Servicer position and upcoming hiring events go to www.rideRTA.com/careers.
Exciting Career Opportunities at RTA!
The Greater Cleveland Regional Transit Authority (RTA) is currently recruiting for a number exciting career opportunities Including:
Bus Operator
Transit Police Officer
Rail Equipment Servicer
Equipment Mechanics
Laborers
Accountants
Human Resource Representatives
And many more 
"At RTA, we recruit prospective team members not just to fill an open position, but are looking for talented individuals that are pursuing a career," said RTA's General Manager/CEO India Birdsong. "We fill more than 40% of our open positions through promotions, and that's made possible, in part, by the wide range of training and staff development programs we offer to our employees."
In addition to a competitive starting salary, RTA offers employees a benefit package second to none. Benefits offered include:
Medical, Dental, Vision, Life & Disability Insurance
Paid Vacation, Holidays & Sick Time
Ohio Public Employees Retirement System
Flexible Spending Accounts
Ohio Deferred Compensation Program
Health & Wellness Program
Employee Assistance Program (EPA)
Tuition Reimbursement
Free Transportation on RTA
Diversity, Equity & Inclusion Program
To see the more than 100 positions RTA is currently recruiting go to www.rideRTA.com/careers.
Media Inquiries Should Be Directed To:
Natoya J. Walker Minor
Deputy General Manager, Administration & External Affairs
Greater Cleveland Regional Transit Authority
1240 West 6th Street|Cleveland, Oh 44113
Email:  natoya.walker-minor@gcrta.org
Desk:  216.356.3110     |       Cell:  216.647.3614
Friday, September 10, 2021