On Sunday, March 17, 2019, the Waterfront Line rail service will be replaced with 67R buses.
67R buses will stop at all Waterfront Line rail stations, please look for the designated orange 67R bus stop signs, for scheduled time click here. 
*Please note: During the hours of 9:00 a.m. and 11:00 a.m., the 67R bus will not serve W. 3rd and North Coast-E. 9th due to the Warehouse District race. 67R buses will serve all other stations during this time. After approximately 11:00 a.m., buses will begin to serve all Waterfront Line stations at the special orange 67R bus stops.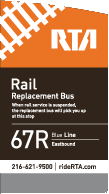 The stop for Tower City is on West Prospect at West 3rd Street.
Flats East Bank will also be served by the C Line Trolley during its regular hours of operation (11:00 a.m. until 11:00 p.m.).
RTA apologizes for the inconvenience during this time.
Routes