In an ongoing effort to provide safe and reliable service, RTA is planning some major track improvements this summer. Beginning Sunday, June 2, Red Line rail service will be replaced with 66R buses between West Park and the airport. A new timetable will be created for this period, and will be in effect through Saturday, June 29.
We will return to the current schedule for two weeks (Sunday, June 30 – Saturday, July 13) for the All Star Game, and we will use the timetable that currently has an effective date of August 12, 2018. So please hold onto it!
Once the All Star festivities are over, we'll resume track work between Puritas and the airport, and a second timetable will be printed with an effective date of July 14 – August 10. Each of the special shut down timetables will be printed on colored paper to minimize confusion. If you have questions about the work being done or Red Line schedules during this time, please visit rideRTA.com or call the RTAnswerline for more information.
66R buses will stop at all stations between the Airport and West Park (June 2-June 29), and between the Airport and Puritas (July 14-August 10) at the special orange 66R bus stop signs. The stop for the Airport is located in the Limo lot between the Terminal and the Smart Parking Garage.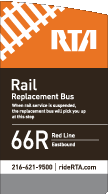 RTA apologizes for the inconvenience as these necessary track improvements are made.
Routes