Effective:

Sep 15, 2018

to

Sep 16, 2018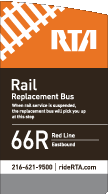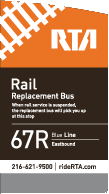 On Saturday, September 15 and Sunday, September 16, Red, Blue and Green Line rail service east of Tower City will be replaced with 66R and 67R buses due to a variety of rail construction projects on the east side.
66R buses will stop at all stops on the Red Line between Tower City and Windermere. The stop for Little Italy-University Circle is on Euclid at Mayfield. The stop for Superior is on Euclid at Superior.
67R buses will stop at all stops on the Blue Line between Tower City and Warrensville-Van Aken and at all stops on the Green Line between Tower City and Green Road.
The 66R and 67R stop for E. 79 is on Woodland at E. 79. Blue and Green Line riders may also choose the #14 on Kinsman for this stop. There is an additional replacement bus stop at Woodland-E. 55.
Rail replacement buses do not stop at E. 34-Campus station. Riders wishing to use this station should look for the #15 and #19 bus routes.
The stop for Tower City for both 66R and 67R buses is on West Prospect at West 3rd.
Look for the orange 66R and 67R bus stop signs. Please allow additional travel time, especially if you are making connections.
During this time, Waterfront Line rail service will also be replaced with 67R buses between Tower City and South Harbor (Muni Lot) due to work on the Main Avenue Bridge.
Regular rail service will resume with the start of service on Monday, September 17, 2018.
RTA apologizes for the inconvenience as this necessary work is completed.