ADA accessible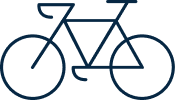 Bike racks available

Fare vending machines available

Public restrooms available

Parking

Wifi available
18010 Brookpark Road
Cleveland, OH 44135
United States
Brookpark, the last station on the Red Line before Cleveland Hopkins International Airport, straddles the Cleveland-Brook Park border. There are nearby connections to I-480 and I-71.
The station has two entrances on Brookpark Road. As of June 29, 2015:
The smaller parkng lot on the station's west side includes handicapped parking spaces, a handicapped ramp, and a temporary bus loop.
The east side includes a large parking lot, and a staging area for construction equipment.
Background
On June 18, 2013, the RTA Board passed resolution 2013-43, and awarded a $2.46 million contract to Platform Cement Inc. to reconstruct the large east parking lot. Work was completed later that year. Federal funds paid for part of the project.
On June 29, 2015, work began to build a new station at that site. The new station was dedicated in August 2017.
Elevator/Escalator Status
| Location | Status |
| --- | --- |
| Elevator Parking to platform | Working |
Routes Serving This Rapid Station