ADA accessible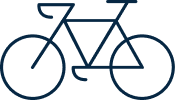 Bike racks available

Fare vending machines available

Public restrooms available

Parking
9528 Buckeye Road
Cleveland, OH 44104
United States
What's Nearby
Calvary Apostolic Assembly Church
Background
On Oct. 23, 2012, RTA officials dedicated the newly reconstructed station, with an attractive, high-quality design that is passenger-friendly. The station is now universally accessible. Both platforms are covered with transparent fiberglass panels that offer a 'halo' effect during evening hours. This glowing effect provides greater visibility for customers.
The station includes a series of stairs and ramps to serve customers with disabilities. The customer platforms are accessible from both Buckeye and Woodhill roads. The station has 33 free parking spots for customer use.
The facility also includes public art. Themed 'the heart and soul of Buckeye', the central sculpture of the public art project is a large 1940s style microphone, visible from both the east and westbound platforms.
Routes Serving This Rapid Station