ADA accessible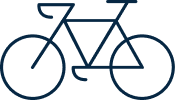 Bike racks available

Fare vending machines available

Public restrooms available

Parking

Wifi available
2890 East 55th St.
Cleveland, OH 44127
United States
The Red, Blue and Green Rapid Lines serve this station. It connects East Side and West Side transit, and links to bus service.
The parking lot and entrance allow buses and cars to drop passengers off right at the station door. A center 800-foot platform allows riders a convenient transfer between the Red, Blue and Green line trains without having to cross the tracks.
The original station, located in a valley west of East 55th Street, was largely hidden from passers-by. The new station was built on the northeast corner of I-490 and East 55th Street, making a more visible landmark and providing easier access to pedestrians and vehicles.
What's Nearby
Background
After more than a year of construction and seven years of planning, RTA officials dedicated the East 55th Street Rapid Station on Oct. 11, 2011. The $9.4 million, ADA accessible station -- an icon in the Slavic Village neighborhood- is as versatile --as it is aesthetically pleasing.
The station is in the St. Hyacinth portion of the Slavic Village neighborhood. The modern design was selected to embrace the neighborhood's future. The stone facade was selected to represent the many churches in the East 55th Street vicinity.
Ken Emling of Richard L. Bowen + Associates, Inc. designed the station. He said".
"Now the community and RTA have a new, 21st century station that rises up from track level above the 55th Street bridge and signifies a new beginning for this entire area."
Public Art
Public art surrounds the facility, with the purple and cement facade serving as an artform itself. There are two pieces of featured art:
The public art mural entitled Space, Speed and Time created by Shan-Shan Sheng, a renowned public artist. The 25-30 colorful art panels depict train tracks. They reflect window light as they hang in the bridge walkway.
Michael Murphy -- who created the bust of Stephanie Tubbs Jones at the Transit Center at CSU -- created colorful red figures within the stairwell and fences throughout the station. These red figures are completed in a series to portray motion and movement associated with public transit and in particular, train travel.
Award-winning effort
In December 2011, RTA received an Honor Award for engineering excellence from the American Council of Engineering Companies (ACEC) of Ohio, for work on the station. According to ACEC Ohio, these awards recognize engineering firms for projects that demonstrate a high degree of achievement, value and ingenuity.
Elevator/Escalator Status
| Location | Status |
| --- | --- |
| Elevator Main Level to Platform | Working |
| Wheelchair Lift Westbound | Working |
| Wheelchair Lift Eastbound | Working |
Routes Serving This Rapid Station