ADA accessible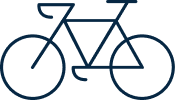 Bike racks available

Fare vending machines available

Public restrooms available

Parking

Wifi available
11851 Mayfield Road at East 119th Street
Cleveland, OH 44106
United States
RTA officials cut a ribbon to officially open the $15.6 million Little Italy - University Circle Station on Aug. 11, 2015.
The new Red Line station replaces an older and functionally obsolete station at Euclid Avenue and East 120th Street – about 0.3 miles away. This is RTA's first new Red Line station in 46 years.
The station was designed by City Architecture. Construction by the McTech Corp. began in October 2013. For more project background, go here.
The station includes:
A single platform headhouse and entrance plaza that are ADA accessible
A heavy-duty elevator and stairway from the street level to the platform and waiting areas
New concrete sidewalks, landscaping, lighting and bridge abutment repairs
Rehabilitation of two transit track bridges
Reuse of an old vault under the railroad bridges as the lobby area; the vault was built in the 1920s as a potential commuter rail station by the Van Sweringen brothers, who built the Terminal Tower and the Shaker Rapid
Artistic lighting of the bridges leading to the station
Installation of a terrazzo flooring with a leaf pattern design by local artist Susie Frazier
Chandelier sculpture elements in the headhouse designed by artist Jennifer Cecere
Italian poetry engraved into the lobby steps by artist Gabriella Mileti
What's Nearby
Elevator/Escalator Status
| Location | Status |
| --- | --- |
| Elevator Platform to Street | Working |
Routes Serving This Rapid Station