ADA accessible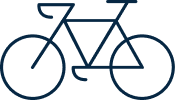 Bike racks available

Fare vending machines available

Public restrooms available

Parking

Wifi available
4200 West 150th St.
Cleveland, OH 44135
United States
The station sits on the northwest corner of the intersection of West 150th Street and I-71, in Cleveland's West Park neighborhood.
The parking lot can be accessed directly from West 154th Street off Puritas Avenue, West 150th Street, and southbound lanes of I-71. The northbound lanes of I-71 will take you to within one block of the Rapid Station entrance. Use Exit 240 on I-71.
What's Nearby
Background
In 1966, the station was built on 6 acres of land. Some RTA land is leased to the PNC Operations Center and La Quinta Inn. The station received a complete $9.54 million makeover and was re-dedicated on May 17, 2011.
The new station includes:
A 2,500-square foot main entrance building with a brick grand foyer and a rounded portico outlined in sandstone.

A 30-foot tower that houses elevators for ADA access.

A 130-foot bridge that brings passengers over the Rapid tracks to the boarding platform.

A smaller, secondary entrance on the residential West 154th Street.

New signage, and a new parking lot.
About 900 people board there daily, placing the station as one of RTA's top five for Red Line ridership.
Public Art
In a competitive process, RTA's Arts in Transit Committee selected four artists.
Dr. Murphy Ajayi developed a design called "Motion, Cyclones, and the Community," an outdoor mural which he said, "celebrates excellence in creativity in all spheres of educational and community empowerment, advancement, and entrepreneurship in the neighborhood and Cleveland areas."

Functional art follows the guidelines of "eclecticity, connectivity, comfort, and direction" by Ron Baron, William Culbertson and Krzysztof Zudowski. It includes sculpted relief panels, clusters of sculptural lamps, and benches with suitcase designs.
Elevator/Escalator Status
| Location | Status |
| --- | --- |
| Elevator #1 Residential | Working |
| Elevator #2 Platform | Working |
| Elevator #3 Bus Loop | Working |
Routes Serving This Rapid Station