ADA accessible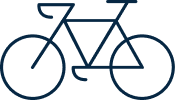 Bike racks available

Fare vending machines available

Public restrooms available

Parking

Wifi available
13051 Shaker Blvd.
Cleveland, OH 44120
United States
The station shares space with Michael's Diner. Trains from the Blue and Green lines stop just a few feet from the diner's windows. The track splits as trains head east from Shaker Square. Green Line trains continue east on Shaker Boulevard to Green Road. Blue Line trains head southeast along Van Aken Boulevard to Chagrin Boulevard.
Light-rail trains heading west reach downtown in just 12 minutes.
What's Nearby
Historic Shaker Square is one of Cleveland's most famous neighborhoods. The second oldest shopping area in the nation, it is listed on the National Register of Historic Places.
Shaker Square is one block from Shaker Heights. Each year, the grassy central area hosts many events.The Square is surrounded by shops, restaurants and the largest concentration of multi-family housing in Cleveland.
Elevator/Escalator Status
| Location | Status |
| --- | --- |
| Wheelchair Lift Eastbound | Working |
| Wheelchair Lift Westbound | Working |
Routes Serving This Rapid Station