ADA accessible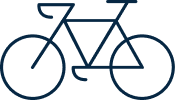 Bike racks available

Fare vending machines available

Public restrooms available

Parking
3088 Van Aken Blvd. at Southington Road
Shaker Heights, OH 44120
United States
History
The station opened on April 11, 1920, with the initiation of rail service by the Cleveland Interurban Railroad.
Service operated on what is now Van Aken Boulevard, from Lynnfield Road to Shaker Square, and then on to East 34th Street and downtown.
In 1980-81, the Green and Blue Lines were completely renovated with new track, ballast, poles and wiring. New stations were built along the lines. The renovated line along Van Aken Boulevard opened on Oct. 30, 1981.
Routes Serving This Rapid Station