ADA accessible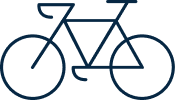 Bike racks available

Fare vending machines available

Public restrooms available

Parking

Wifi available
14232 Euclid Ave.
East Cleveland, OH 44112
United States
The Louis Stokes Station at Windermere is often referred to as "Stokes/Windermere" or just "Windermere." It is named for Congressman Louis Stokes, who served this area with dedication for many years.
This station is located on the north side of Euclid Avenue, between Bryn Mawr and Doan roads. It is adjacent to RTA's Hayden bus garage.
Food service is available inside the station, from the Windermere In & Out Cafe. Windermere In & Out is open from 6 am to 6 pm Monday-Friday and on the 1st Saturday of each month.
What's nearby
Elevator/Escalator Status
| Location | Status |
| --- | --- |
| Elevator Platform to Street Level | Working |
| Escalator Platform to Street Level | Working |
Routes Serving This Rapid Station