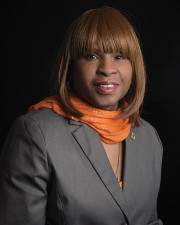 CLEVELAND – Sheryl King Benford, General Counsel, Deputy General Manager for Legal Affairs for the Greater Cleveland Regional Transit Authority (RTA), will be inducted into the Cleveland-Marshall College of Law Hall of Fame, 6 p.m., Oct. 19, at 1801 Euclid Ave., Cleveland, OH.
Honored for "making a significant contribution to the College of Law and for continuing to contribute to the esteemed reputation of the college today," Ms. Benford has served as general counsel for RTA since April 2000. She has a Bachelor of Science in Education Cum Laude from Wilberforce University and a Master of Science in Education from the University of Akron. She received her Juris Doctorate from Cleveland-Marshall College of Law in 1979.
A graduate of the Harvard University Program for Senior Executives in State and Local Government, Ms. Benford served as Director of Law for the City of Shaker Heights, Assistant Director of Law for the City of Cleveland, Assistant Dean at Cleveland-Marshall College of Law, and Associate Counsel for RTA.  She has more than 25 years in public-sector legal practice and management, including 17 years in the transit industry.
"This is a well-deserved honor," said RTA's CEO and General Manager, Joe Calabrese. "Sheryl's brilliant legal skills serve RTA every day in the most complex situations. We're privileged to have her head up our legal team. Her outstanding contributions to the community make Sheryl a distinguished member not only of RTA's top leadership staff, but certainly of Cleveland Marshall's Hall of Fame."
Media Contact:
Linda Scardilli Krecic
216-356-3104 (office)
216-390-9605 (cell)