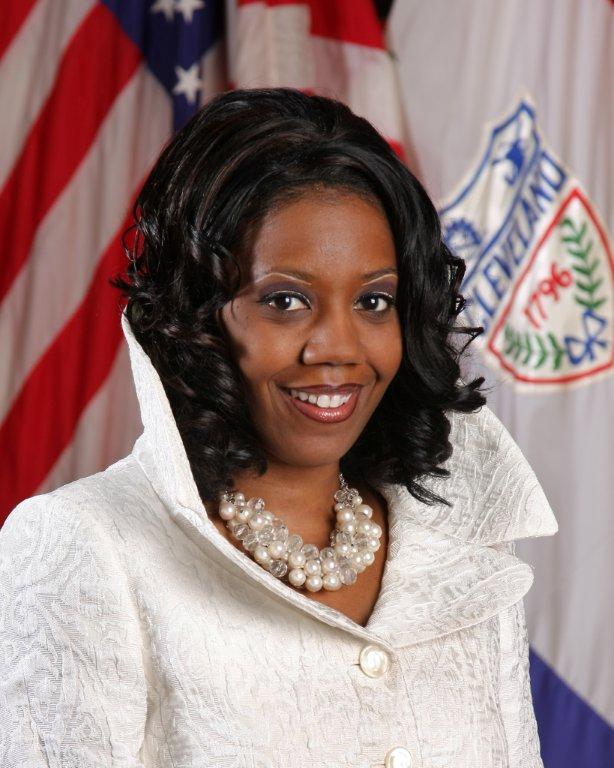 CLEVELAND -- Valarie J. McCall, a Board member of the Greater Cleveland Regional Transit Authority (RTA) since 2006, has been elected Vice Chair of the American Public Transit Association (APTA).
The election was held Oct. 11, at APTA's annual meeting in Houston. The role of the Vice Chair often leads to election as Chair the following year.
As Chief of Government and International Affairs for Cleveland Mayor Frank G. Jackson, McCall serves as the City's primary liaison to state government and federal entities.
APTA is the leading force in advancing and improving public transportation in North America.
" I am honored that APTA has chosen me to serve as Vice Chair," McCall said. "Public transit is so critical to maintaining a good quality of life, both here and around the country. I look forward to working with APTA, RTA and the City of Cleveland to ensure that public transportation stays on the forefront of discussion in Cleveland, Columbus, and Washington, DC."
Experience in public transit
Locally, McCall was recently re-appointed to another term as an RTA Board member, and will serve until 2017. She chairs two important Board committees, Planning and Development, and Safety and Security. Earlier this year, she served on the Cleveland Committee that convinced the Republican National Committee to select Cleveland as the site of the 2016 Convention.
Regionally, she has long been active in the five-county Northeast Ohio Areawide Coordinating Agency, a metropolitan planning organization that deals with transportation, environmental, planning and funding issues. She was President of the Governing Board in 2013.
On the national scene, she serves APTA in a number of positions:
Vice Chair, Board Executive Committee.
Board of Directors.
Legislative Committee Authorization Task Force.
Chair, Transit Board Member Committee.
American Public Transit Foundation Board.
Active in government and public service
McCall has compiled a lifetime of achievement in government and public service. In recognition of her career in public service, she was awarded an honorary doctorate from Cleveland State University in 2012.
She previously served the City of Cleveland as Director of the Empowerment Zone, and in 2002, became the youngest Clerk of Council in the history of the City.
She now serves on a number of key Boards in Cleveland. Her work and studies have taken her to Japan, and to several European countries, including Greece before the 2004 Olympic Games.
In 2002, she was selected to the prestigious "40 Under 40 " list by Crain's Cleveland Business.
A lifetime Cleveland resident, she grew up in the Glenville neighborhood.
Many challenges
RTA Board President George F. Dixon III knows what McCall is facing. He was elected APTA's Vice Chair in 2002 and Chair in 2003.
"Being Vice Chair of APTA is a great challenge, and I'm sure she is up to it. She is in a position to mold the future of public transit, both in Cleveland and across the nation. She is a high-energy, non-stop professional. I get tired just watching her go from task to task. Each day is so full. I am amazed at how much she gets done. McCall has been a great contributor to RTA. Her experience in local government and public transit has prepared her well for the challenges she will face."
RTA CEO and General Manager Joe Calabrese agreed.
"This is a critical time for public transit. She is well-qualified for the role. We are excited that she has been chosen to help lead APTA, and we look forward to working with her as Vice Chair. When APTA wins, RTA wins."
Cleveland Mayor Frank G. Jackson knows the value of good public transit.
"Transportation is essential to the economy in Cleveland," he said. "Having someone from here, who understands Cleveland's perspective and need is good for us, our citizens and the nation."
What is APTA?
APTA members serve the public interest by providing safe, efficient and economical transit services, and by improving those services to meet national energy, environmental, and financial concerns. More than 90 percent of transit passengers in the U.S. and Canada are carried by APTA members.
APTA members are public organizations that engage in bus, Paratransit, light rail, commuter rail, subways, waterborne passenger services, and high-speed rail. Members also include large and small companies that plan, design, construct, finance, supply, and operate bus and rail services worldwide. Government agencies, metropolitan planning organizations, state departments of transportation, academic institutions, and trade publications are also part of the membership. Full APTA profile
For media inquiries only