On April 20, K-9 officer, Ben retired after 4 years with Transit Police. He is a Certified Explosive Ordinance Detection Canine (EODK9) from Lackland Air Force Base, San Antonio Texas.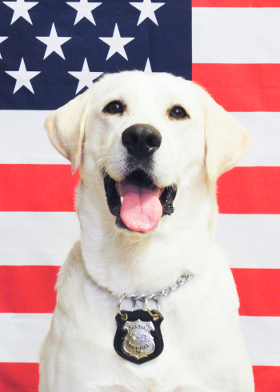 Ben has completed over 1,400 searches while serving the Transit Police Department to combat terrorism. His primary patrol function is to detect explosives intentionally placed by searching vehicles, luggage and cargo on our system.
Ben belongs to a 8 team unit that works tirelessly to detect and deter terrorism. In addition, he has worked the last 4 years performing pre-event explosive sweeps for Cleveland Indians, Cavaliers, Browns, and Monsters, as well as numerous concerts at the Quicken Loans Arena and Progressive Field. Ben has enjoyed working as a police officer, building relationships within our community by participating in career days, school visits, and Operation Kid watch events around Cuyahoga County.
Ben has worked the NBA Finals, MLB, World Series, NFL Super Bowl, and the 2017 Presidential Inauguration. Ben has assisted and provide bomb threat response at schools and different venues to over 50 communities throughout the area and has provided protection details with the US Secret Service for all 5 living Presidents of the United States of America and multiple foreign diplomats visiting our great city.
Ben provides a safe and noticeable presence working around the train or bus platforms, while greeting everyone riding on the RTA or out around Public Square and Tower City. He will be retiring for medical reasons and rest comfortably at home with his handler, Sgt. Christopher Pfeifer.
Ben has a warm and inviting familiar face will be missed around the RTA system. He has always served with courage, distinction and honor. We thank him for his relentless dedication, and professionalism while keeping us all safer.