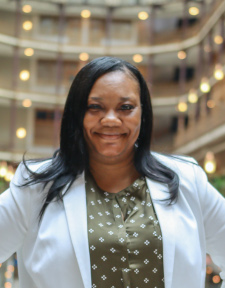 The Greater Cleveland Regional Transit Authority (RTA) Director of Power and Way Teresa Muti has been named by Railway Age as one of the "Women in Rail" honorees for 2021.
Her extensive accomplishments will be featured in the November 2021 issue of Railway Age magazine. Ms. Muti was selected among 25 other outstanding women in the rail industry based on her leadership, vision, innovation, and accomplishments.
Ms. Muti began her career in rail at RTA 25 years ago driving spikes and laying railroad ties. She has worked her way up through the ranks, proving time and again that she is resolute and has the strong leadership skills to now serve as Director of Power and Way.
Ms. Muti oversees all aspects of the track maintenance, substation, line, signal, and fiber optic functions along RTA's 23 miles of track that make up three separate routes.
During her tenure in the rail department, she improved cost efficiency and configuration management, and increased preventive maintenance from 30% to 95%. Ms. Muti developed employee engagement programs and events, developed and implemented maintenance standards, established Power & Way inventory stores, decreased the number of rail incidents, and created incentive programs to increase employee accountability.
A graduate of Cleveland State University with a degree in organizational management, Ms. Muti operates one of the nation's oldest railway systems, and in each of her successive roles, she has demonstrated what it takes to bring the system into a state of good repair.
"Her strong leadership skills allowed her to galvanize her department and set about a process for prioritizing projects while increasing the productivity of her staff," said RTA's Chief Operating Officer Floun'say Caver.
"Ms. Muti also revolutionized the way in which RTA executes preventative maintenance, increasing accountability and improving the effectiveness of the preventative maintenance program," he said.
Ms. Muti works very closely with RTA's State safety oversight office to ensure current compliance, and oversees corrective actions to eliminate risk along the railroad.
A member of the American Public Transit Association (APTA) and Amercian Railway Engineering and Maintenance-of-Way Association (AREMA), Ms. Muti is a close partner with RTA's engineering and construction team and uses her well-honed industry knowledge to anticipate and repair issues on the rail system.
"I've known Ms. Muti for most of her career, and I am happy to congratulate her for being named Railway Age's Women in Rail recipient for 2021," Caver said.
RTA's CEO and General Manager, India Birdsong said, "Teresa Muti is not only one of the most talented women in management at GCRTA, but her proven and unique skills set her apart in the transportation and rail industry.
"Her firm and decisive leadership has forged a unity among her staff that translates into consistent reliability. Ms. Muti and her team can be counted on, no matter how challenging the issues. She and her staff demonstrate a willingness to brave the elements, when necessary, and they do whatever it takes 21 hours each day, seven days each week, to make repairs or anticipate issues to keep one of the nation's oldest rail systems operating and in a state of good repair," Birdsong said.
"RTA is fortunate to have someone like Ms. Muti with the industry knowledge, fortitude and strong leadership skills who knows what it takes to get the job done and done right," Birdsong said. "I offer my heartiest congratulations to Teresa Muti for her honor as a 2021 "Women in Rail."
Media Contact:
Linda Krecic
216-356-3104
216-390-9605