CLEVELAND – The Greater Cleveland Regional Transit Authority (RTA) has appointed Dr. Floun'say Caver as Deputy General Manager of Operations, effective Oct. 1.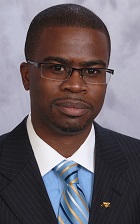 "After an extensive nationwide search, it was obvious that Dr. Caver was the most outstanding candidate for the job," said RTA CEO and General Manager Joe Calabrese.
Dr. Caver fills the position vacated after the retirement of Michael York, who joined RTA in 1990.
"Dr. Caver has been a rising star at RTA, as well as in the transit industry," said Calabrese.
"He has successfully managed some of RTA's most critical departments, including the budget office, the Hayden bus district and the Service Quality "traffic control" department, where he supervised the 24/7 delivery of all bus and rail services to more than 200,000 customers each weekday," he said.
A graduate of Hiram College, Dr. Caver received his Masters of Public Administration from Cleveland State University (CSU) and first joined RTA in 2000. He left in 2002 to complete is Ph.D. in Public Affairs from the University of Texas at Dallas, and returned in 2006 as RTA's Manager of Budgets.
"His technical knowledge of the bus and rail industry, and his ability to lead and inspire others, made him our Number One candidate," Calabrese said.
Dr. Caver's background
Dr. Caver is the creator and original leader of TransitStat -- a data-driven performance management initiative that has reduced costs, improved processes and changed the RTA work culture. A transit adaptation of New York City's CompStat and Baltimore's CitiStat programs, TransitStat saved RTA more than $2.5 million in its first year in 2008, and more than $60 million in nine years.
Dr. Caver also created the RTA's Management Trainee Program, and has consistently developed his staff and RTA staff at-large. An adjunct professor at Cleveland State University and Ohio University, he is a 2017 graduate of Leadership Cleveland.  He has been published in peer-reviewed journals, trade magazines and a manuscript. He was recognized as a CSU Levin College's Distinguished Alumni, and has been chosen for "40 Under 40" lists in Crain's Cleveland Business and the national Mass Transit magazine
Active in the community, he is a board member of the Collaborative to End Human Trafficking.  He resides in Richmond Heights, OH, with his wife and two children.