Effective:

Jul 31, 2016

to

Nov 26, 2016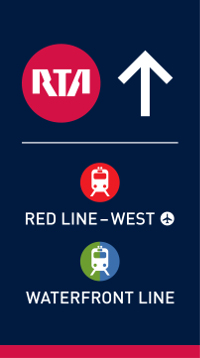 Beginning Sunday, July 31, 2016, and continuing until the end of service on Friday, November 25, 2016, the full-service westbound track at Tower City, commonly called "Track 8", will be taken out of service to allow for track bed replacement.
Rail service at Tower City during that time will be affected as follows:
Passengers on all Rapid lines (Red, Blue, and Green) arriving from east of downtown, whose final destination is Tower City, will exit their trains on the Track 7 platform. This platform is located behind the northernmost wall of the existing platform, and is accessible by either stairs or an elevator that connect to Tower City's main floor at a lobby between Victoria's Secret and Dario Fashion Group.
Through passengers on Red Line trains headed westbound, or light rail trains continuing to the Waterfront Line, will NOT need to transfer trains or change platforms.
Passengers headed westbound starting from Tower City, on either the Red Line or the Waterfront Line, will board their trains on the Track 7 platform.
Passengers on the Red Line or Waterfront Line from west of downtown, headed eastbound, will NOT be affected, whether they are ending their trip at Tower City or heading further east. Only eastbound Waterfront Line passengers heading westbound on the Red Line, or eastbound Red Line riders heading westbound on the Waterfront Line,  would need to transfer from the main platform to the Track 7 platform. 
Light rail passengers headed eastbound will board on Track 13 (the southernmost track on the light rail side of the station) only. Light rail trains will NOT use Track 10 East (the center track on the light rail side of the station) during this time.
Special signs (pictured here)will be in place, and RTA staff will be on hand, to direct customers as we begin this project. Cleveland.com has also provided a video directing customers to the new platform entrance:
Regular service on Track 8 will resume with the start of service on Saturday, November 26, 2016.
We regret any inconvenience to our customers during this time.
Major Stations