ADA accessible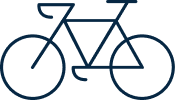 Bike racks available

Fare vending machines available

Public restrooms available

Parking

Wifi available
6200 Corona Court
Cleveland, OH 44102
United States
This station is also known as West 65th - Eco Village, because of a unique development nearby. The station can be reached by an walkway over the train tracks to nearby housing on Madison Avenue. The rail platform can be accessed from either the headhouse or a stairway on Madison Avenue.
What's Nearby
History
On Sept. 21, 2004, a new $4 million station opened on this site. The station is the cornerstone of a neighborhood revitalization effort known as Eco Village -- an environmentally friendly urban village in the heart of the city.
This is believed to be one of the first "green" rail stations in the country, and because it is tied to housing nearby, it is a great example of transit-oriented development, or TOD.
Partners in the Eco Village project were:
The original facility, built in 1953, was a below-grade station with a pedestrian bridge that spanned rail tracks, a wooden platform, and steel stairs that connect the platform to Madison Avenue. The station had limited access and was not visible from either Lorain Avenue or Madison Avenue.
The new station is clearly visible from Lorain Avenue and I-90, giving RTA a much stronger neighborhood presence. Its design reflects neighborhood involvement and participation, and uses environmentally friendly building technologies.
The 2.5-story station offers:
An entry pavilion to a 1,200 square foot climate-controlled passenger waiting area
Elevator, RTA Transit Police mini-station and state-of-the-art security systems
RTA system information
A possible concession area
The station meets all requirements of the Americans with Disabilities Act (ADA).
Its design resembles a typical neighborhood house, with a color scheme that reflects the neighborhood and the preferences of area residents. Its roof design matches that of nearby St. Coleman's Church, a neighborhood icon.
The station site includes:
A landscaped plaza fronting on Lorain Avenue
Additional landscaping and benches on Madison Avenue
A canopied stairway on Madison Avenue
Public art by Greg Aliberti of Cleveland who painted a large mural and related public art pieces at the site.
A "green" building
"Green" building principles guided the planning, design and construction of the new station. The design maximizes energy savings, promotes clean air, and limits excess pollution. During construction, workers used local materials, recycled materials, and installed a passive solar system. The building design, plus nearby trees, means the station should use less energy in both winter and summer.
Elevator/Escalator Status
| Location | Status |
| --- | --- |
| Elevator Street level to platform | Working |
Routes Serving This Rapid Station