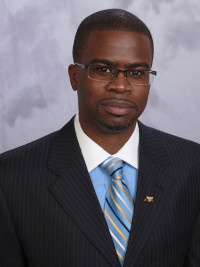 The Greater Cleveland Regional Transit Authority (RTA) Board of Trustees today appointed Dr. Floun'say Caver as interim CEO and General Manager. He will serve from September 1 until March 1, while the Board conducts a search to fill the position permanently.
The announcement comes as the current CEO and General Manager, Joe Calabrese, transitions to the newly created position of Senior Advisor for Special Projects and Strategic Innovation. He will serve in this advisory position in a full-time capacity until March 1. Calabrese will then continue in this position on a part-time basis from March 1, 2019 through February 29, 2020. 
"Doc" Caver first joined RTA in 2000 and brings nearly 15 years' experience working at RTA in roles of increasing responsibility. He currently serves as RTA's Chief Operating Officer, Deputy General Manager of Operations, a position to which he was promoted in October, 2017.  In that capacity, he oversees nearly 2,000 of RTA's 2,300 employees and an annual budget of $218 million.
Doc is an adjunct professor of public administration at Ohio University and previously at Cleveland State University where he teaches public performance management and budgeting. 
"Doc's capabilities are an excellent fit to this organization, and I look forward to assisting him during this transition," said Calabrese. 
More details about Dr. Caver's background may be found here.
Media Contact:
Linda Scardilli Krecic
216-356-3104 (office)
216-390-9605 (cell)