RTA Board Identifies Choice for Next CEO
We're pleased to announce that RTA's Board of Trustees unanimously voted to enter into contract negotiations with India Birdsong, a veteran of large transit systems in Chicago and Nashville, to become RTA's next Chief Executive Officer and General Manager.
The Board's decision comes after a nationwide search conducted with the assistance of top-ranking executive search firm Krauthamer and Associates.
"We interviewed nine excellent candidates for this job over the course of many months," said Board member Georgine Welo, who served on the search committee. "India stood apart. She's personable, innovative and she understands public transit at every level, from the bus garage to the executive offices. Cleveland transit riders are about to get a champion and a passionate advocate."
Birdsong would succeed Joseph A. Calabrese, who stepped down from the CEO role in September after 18 years. Interim CEO Dr. Floun'say R. Caver will return to his role as RTA's Chief Operating Officer/Deputy General Manager of Operations.
Birdsong is Chief Operating Officer of WeGo Public Transit, Nashville's public transportation authority. In that role, she's responsible for leadership of over 550 employees, including union and administrative staffers, two garages and maintenance shops, a commuter rail line and a downtown transfer central hub.
In Cleveland, Birdsong would oversee 2,300 employees and a $218 million annual budget.
Birdsong's focus and emphasis on serving the people who ride the buses and trains spoke volumes to the Board, said Welo, who also serves as mayor of South Euclid. "You can tell immediately that India is a skilled listener," Welo said. "That's what we expect in Cleveland. She'll be listening to bus riders, public transportation advocates, her staffers—just about anyone with an opinion about public transit. Then, she has the ability to take that information and turn it into improvements that make the system run better for everyone."
Upcoming Route Adjustments
As students return to school, we'll be adjusting our routes accordingly. Pick up a new timetable for the following routes: #1, #5, #9, #32, #41-41F, #53F, #77F, Red Line, and Blue/Green Line.
On September 1, the #1 route will be realigned to serve the new Amazon Euclid Fulfillment Center.
Due to construction work on the S-Curve retaining wall, 66R buses will continue to replace Red Line trains between the Airport and West Blvd.-Cudell stations through the end of August. Construction work at Tower City on Track 10 East (the center track on light rail platform) is set to begin this fall.
Be sure to check the destination sign on the train prior to boarding, as your boarding location may have changed.
RTA is a Safe Place
Every RTA vehicle doubles as a Safe Place. Safe Places are sites set up in public locations where youth (age 17 and younger) in crisis situations can get free help immediately. If you're seeking help, tell the bus or train operator that you are there because of the Safe Place sign. They'll notify a Road Supervisor or Transit Police Officer, who will meet the bus or train you are on at a nearby location. Then, they'll either transport you to a Safe Place shelter partner, or have a Safe Place volunteer come to meet with you. Our shelter partners have counselors who care about you and want to help.
Pillar Studies Update
Jarrett Walker and Associates are reviewing the data collected from the second round of surveys and the community meetings for the System Redesign study. The team met with RTA for a series of workshops last month as they worked on various system redesign scenarios. The Fare Equity study is also compiling results from surveys, and some preliminary results will be shared in October. The next round of community meetings will begin the last week of September. Please continue to check rideRTA.com to find a meeting close to you.
We have also begun work on our Strategic Plan study. Initial meetings with HDR, Inc., RTA, and stakeholders throughout the county have met to discuss the process and share information. There will be a series of community meetings scheduled for the beginning of January to collect input from general public, so look for those dates soon.
Employee Spotlight: Nick Krehel, Jr.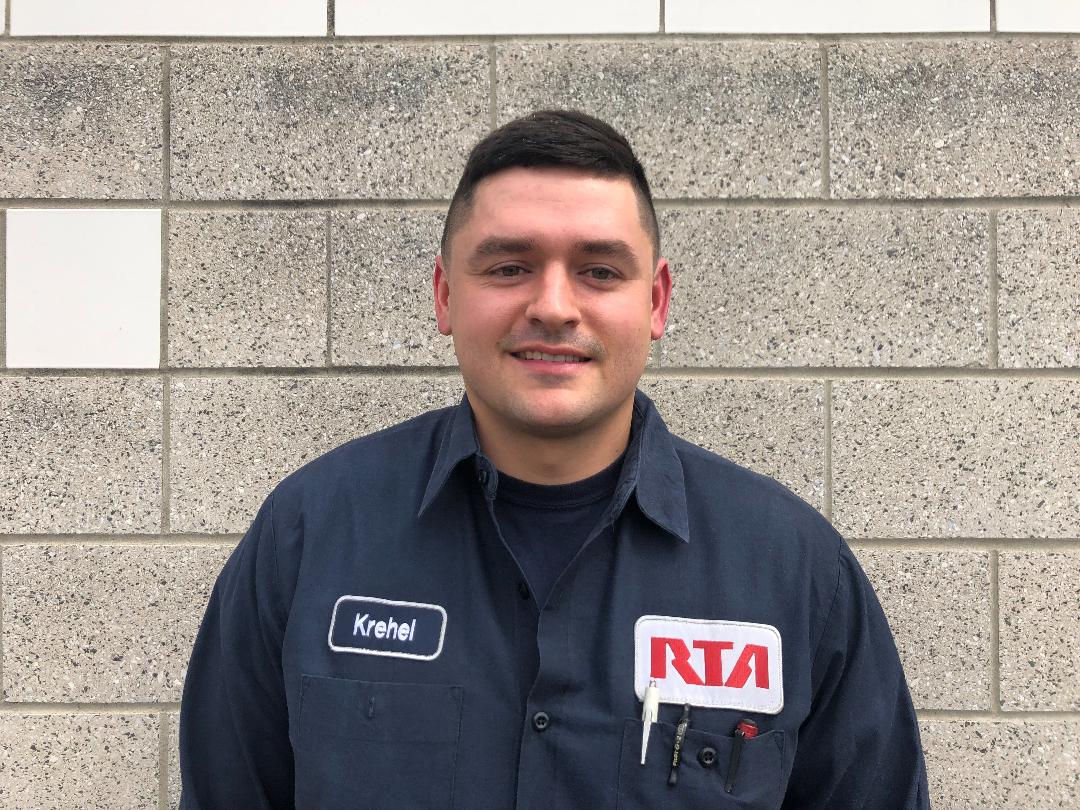 You could say Nick Krehel Jr. was born to work here. He's a third generation RTA employee; his grandfather was a rail operator, his father was a dispatcher at Paratransit, and Nick works as an Equipment Repair Leader. (Plus, his brother Justin is an Equipment Servicer!)
Nick has a library of stories he's collected from his family. He loves hearing about the past and the way the city has grown over the years, and recognizes that RTA has been a huge part of that success.
Nick loves his job and enjoys helping other mechanics. He takes pride in seeing buses on the road and knowing he played a key role in ensuring they run safely. And even with his extensive experience, he's always eager to learn more.
He's hoping to advance his career at RTA and become an Equipment Supervisor one day. When he isn't fixing vehicles at RTA, Nick enjoys spending his time riding his motorcycle through the Metroparks or getting tattoos.
We're so happy that Nick carried on the family tradition, because it's great to have him with us!
See Something, Text Something
As part of our ongoing effort to provide safe transportation, our "See Something, Text Something" program allows riders to send SMS text, photo, and video messages to 216-575-EYES (3937). Dispatchers will chat with the customer via text and, if needed, forward the message to responding field officers who can monitor the situation. Together, we'll ensure RTA remains a safe place for all.
Take RTA to FirstEnergy Stadium
The start of pre-season means the Browns are back! We'll be hosting games on August 8 (against the Washington Redskins) and August 29 (against the Detroit Lions). Both games are at 7:30 p.m., and both are easily accessible, thanks to RTA.
Simply take any Rapid line to Tower City. From there, transfer to the Waterfront Line, which has a stop conveniently located at W. 3rd Street. When you exit, the stadium's right there. Have a great time, and go Browns!
August 15 – 18: The Feast of the Assumption
Now in its 120th year, Little Italy's Feast of the Assumption celebration is always a highlight of the summer. It provides fun for the whole family, and features some of the city's best restaurants, artists, and entertainers.
This year's festival will run August 15 – 18, taking place at and around Holy Rosary Church. The Murray Hill neighborhood is sure to be hopping, so save yourself the stress of searching side streets for parking. Park for free at one of our many secure lots, take the Red Line Rapid, and get off at the Little Italy-University Circle stop and prepare to feast!
August 17 – 18: Flats Arts Festival and Book Collection
The Flats East Bank will host the fourth annual Flats Festival of the Arts on Saturday, August 17, 11 a.m. – 8 p.m., and Sunday, August 18, 11 a.m. – 5 p.m. This free event will exhibit and sell pieces—including ceramics, paintings, photographs, and woodwork—from notable local and national artists. The festival will also feature many of the region's most talented musicians and dancers. A wide selection of food and drink will be available for purchase, and you can also stop in to one of the East Bank's many restaurants.
RTA can drop you in the middle of the action if you just ride the C-Line Trolley, which has a stop in the Flats. Even better: it's free with a smile. Or exit the Waterfront Line at Flats East Bank.
Also, in partnership with the Kids' Book Bank, we'll be holding a book drive at this event to benefit the children of Cleveland who may not otherwise have access to reading materials. An RTA bus will be onsite to collect donations on Saturday, August 17, from 11 a.m. – 4 p.m. We appreciate your gift of a new or gently used children's book—and we know local kids will, too. Thanks in advance for your generosity!