Meet RTA's Color/Honor Guard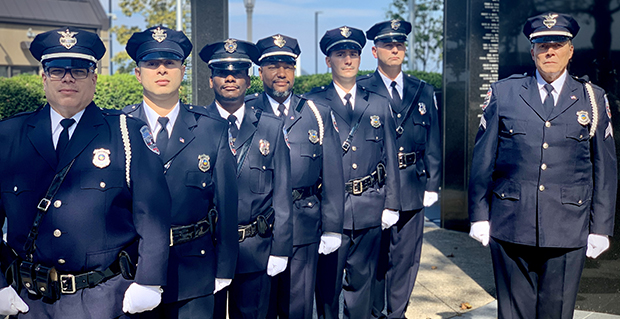 RTA has its very own Color Guard/Honor Guard, and this first-class unit is a point of pride for our Transit Police. Color Guard participates in celebratory events, like the annual Police Officer Memorial Parade. The Honor Guard participates in solemn occasions, and while our department has been fortunate to have not lost any officers in the line of duty, the RTA Honor Guard does take part in memorial services and funerals for fallen officers.
The Color Guard/Honor Guard is a voluntary position at Transit Police, and the officers who serve in this capacity perform a truly professional and honorable mission on behalf of the department. Police officers wishing to take part in the Color Guard/Honor Guard need to submit their intentions for service and pass a thorough interview conducted by current members. This year, we've added four new officers to the guard, and have a reserve list of six officers who are ready to join the group as positions become available.
We're proud to be represented in the community by the following members: Sgt. Rob Schwab, Det. Narayan Stitt, Investigator Todd Miller, and Patrol Officers Tarik Thomas, Christopher Morley, Joseph Patalon, Christopher Anderson, Jason Koncz, Zachary McLeish, and Manuel Villanueva. We thank them for their service.
Holiday Service on Thanksgiving
In honor of Thanksgiving, RTA will run Sunday/holiday service on Thursday, November 28. The Main Office Building, Tower City Pass & Farecard Sales, and Telephone Information Center will be closed. If you need help understanding how your route is affected, check the online planner or call the RTAnswerline (216-621-9500). Operator-assisted trip planning, fare, and service information are available Monday – Friday, 7 a.m. – 6 p.m., and Saturday, 8 a.m. – 4:30 p.m. Regular weekday service will resume Friday, November 29. We hope you have a great day celebrating with family and friends!
Use Rider Rewards
Let RTA provide inspiration for your weekend fun, as our Rider Rewards program offers exclusive discounts to our customers. All you have to do is show your same-day farecard at one of our partner retailers. We've teamed up with a variety of vendors: everything from restaurants to museums, bakeries, and clothing stores—many of which you already know and love.
Take RTA to the Browns
Since football season is in full swing, we'd like to remind you that RTA is your first line of defense against game day traffic. Extra rail service begins about two hours before kickoff and continues after the game as long as needed. Simply ride any Rapid to Tower City, transfer to the Waterfront Line, and exit at the W. 3rd St. station, which is right across from FirstEnergy Stadium.
RTA can even accommodate your tailgate: the Waterfront Line also makes a stop outside the Muni Lot. Make sure you stop by the RTA community bus, where we host a tailgate party and give out free hot dogs and prizes before every home game. Or if you're catching the game at bars or restaurants throughout the city, don't forget about our Trolleys. The C-Line route drives from Playhouse Square all the way to The Flats East Bank, with stops at the Warehouse District, E. 4th St., and Tower City along the way. On Sundays, it runs 11 a.m. – 11 p.m., and it's free to ride with a smile.
We hope to see you downtown—and give you a ride—as we root for the Browns!
Cheer on the Cavs
Basketball is back. If you're going to cheer on the Cavs, RTA is the best way to get to Rocket Mortgage FieldHouse. Just take any Rapid line to Tower City. From there, you can use the RTA Walkway for a straight shot into the arena—you don't even have to step foot outside.
The Walkway is open three hours before every Cavs game at the FieldHouse, and it's open for two hours afterward, too.
Throughout this month, the Cavs will host home games on November 3, 5, 14, 17, 23, 25, 27, and 29.  See you then!
Reminder: No Electric Scooters on RTA
Hello, Cleveland! We would just like to give you a courteous reminder that Bird, Lime, and Spin scooters are not permitted on RTA vehicles at any time. They are to remain on the streets of Cleveland, and preferably left in their designated pick-up areas for smooth transitions between riders and so necessary maintenance can be performed by their respective companies.
We do not allow them on our vehicles because we're prioritizing the safety of all passengers, as these motorized scooters can be a hazard in confined spaces.
We encourage you to use these scooters to get to your closest RTA stop, or to reach your final destination after riding RTA.
We thank you for your understanding as we continue to promote safety across our system.
To Report Suspicious Activity, Text 575-EYES
In an ongoing effort to keep our riders and operators safe, we offer an easy and convenient way for anyone to report suspicious activity aboard an RTA vehicle. By sending a text, photo, or video message to the number 216-575-EYES (3937), you can communicate with Transit Police Dispatchers. There are no apps to download. Once you send a message, dispatchers are engaged. They can then chat with you via text and, if needed, forward the message to responding field officers who can monitor or continue the chat.
We want to ensure that everyone feels safe and secure when riding transit, so if you see something, we encourage you to text something.
In addition to this program, Transit Police would like to offer some tips to stay safe in holiday crowds:
Pedestrians: Use crosswalks, obey traffic signals and watch for vehicles. Avoid distractions, like texting or listening to music, while crossing the street. Be alert and listen for vehicles.
Everywhere you go: Pay attention to your surroundings.
While riding RTA: Secure your belongings; protect your electronic devices. On the Rapid, read the emergency evacuation procedures above the doors.
Parking: Put your junk in the trunk. Don't leave valuables visible in your car.
Some RTA Routes are Changing December 1
A total of 12 RTA timetables change on Sunday, December 1. Changes are designed to improve service reliability and give customers better connectivity as they transfer.
Pick up new timetables for the 2, 25, 37, 30-39-39F, 41-41F, 45, 51-A-B-C MetroHealth Line, 55-A-B-C Cleveland State Line, 78, 79-79A, and the 83 routes.
Where to obtain new timetables:
New timetables are posted on rideRTA.com/routes.
Stop by RTA's Main Office, 1240 W. Sixth St.
Visit RTA's Customer Service Center at the Tower City Station, 50 Public Square.
To order a timetable by mail, call the RTAnswerline, 216-621-9500.
Ride RTA to Winterfest November 30
Kick off your holiday season with the whole city. Winterfest is an annual party hosted by the Downtown Cleveland Alliance and held in Public Square. There will be an ice skating rink, a tree lighting ceremony, a fireworks display, live music, and even an appearance from Santa Claus himself. It's fun for all ages, so bring friends and family. You can stop by as your schedule allows or make a day of it: Winterfest starts at 10 a.m. and continues until 8 p.m.
Ensure that you stay in a holly, jolly mood by taking RTA. Park in one of our free, secure lots, and then ride any Rapid line to the Tower City Station. Public Square's right outside—just follow the sound of holiday music.
While you're at it, try to catch a glimpse of RTA's special holiday train, which will be decked out with festive lights to celebrate the winter holidays. This train will be in service on the Blue or Green Line starting Saturday, November 30, but will run for a limited time only!