From July 25 until August 7, 66R buses will replace Red Line trains between W. 25-Ohio City and Tower City stations due to construction work on the viaduct bridge.
The 66R bus stop for W. 25-Ohio City is located in front of the station entrance.
The 66R bus stop for Tower City is located on W. Prospect at W. 3rd St.
Please look for the special orange bus stop signs.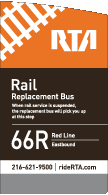 Regular Red Line rail serviced will operate between the Cleveland Hopkins Airport and W. 25-Ohio City stations and between the Tower City and Windermere stations.
Pick up a new timetable for details.
Full Red Line rail service will resume with the start of service on Sunday, August 8, 2021.
RTA apologizes for the inconvenience as this necessary construction work is completed.
Routes Affected
Major Stations Affected