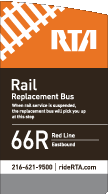 From July 14, 2019 through late August, Red Line rail service between West Blvd - Cudell and Cleveland Hopkins International Airport will be replaced with 66R buses due to construction and track work in this area.
At the Airport: The 66R stop is located in the lot between the Terminal and the Smart Parking Garage. To access, take the escalator next to the rapid station (one level below baggage claim) up to street level.
At W. 117th St.: The 66R bus will stop at the #78 stop on W. 117th St. and will not pull into the station. 
At West Blvd.: The 66R bus will pull in and stop in front of the station.
Please look for the special orange 66R bus stop signs.
Regular Red Line rail service will operate between West Blvd - Cudell and Windermere during this time.
At this time more than 70 steel beam frames have been erected along 300 feet of the retaining wall. The project is expected to be complete by the end of August.
Please pick up a new timetable and visit Red Line page for more details.
RTA apologizes for the inconvenience as we make these necessary improvements and repairs.
Routes