Effective:

Oct 19, 2019

to

Oct 20, 2019
On Saturday, October 19 and Sunday, October 20, Red Line rail service between Tower City and W. 117 will be replaced with 66R buses due to several RTA engineering and maintenance projects.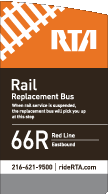 66R buses will not serve the W. 65 and W. 25 stations.
66R stops are located at: 
West Blvd.-Detroit (on Detroit, not in the station)
W. 65-Detroit
W. 25-Detroit
The stop for Tower City is located on West Prospect-W. 3rd St.
Regular Red Line rail service will resume with the start of service on Monday, October 21, 2019.
RTA apologizes for the inconvenience as this necessary work is completed.

Routes