CLEVELAND – The Greater Cleveland Regional Transit Authority (RTA) is your winning ride to the Cavalier's Championship Parade, set for 11 a.m. Wednesday, June 22.
Park for free at many of the Rapid transit stations, and ride the train to the Tower City Station.
A commemorative Championship $5 All-Day (round-trip) Pass will be on sale at all the Rapid transit stations on the Red Line, Blue Line and Green Line.
Please have a $5 bill ready to make your purchase. Keep the farecard in a secure place -- you will have to show it on your trip home.
RTA will offer extra rail service all day. RTA staff will be on hand to assist customers at key stations.
A key change
Because of expected road congestion and for customer safety, RTA has established two interim terminals for all buses traveling downtown between 9:30 a.m. and 7 p.m. Times are subject to change.
The western terminal is west of Tower City, in an area at the intersection of Superior, Prospect and Huron avenues. These routes are: 22, 26, 45, all 51s, 53F, all 55s, 77F, 79A-B. 81, 90F, 246, 251, 263.

UPDATE:  The eastern terminal is the Stephanie Tubbs Jones transit center. The routes served at this center are: 1, 3, 8, 11, 14, 15, 19, 38, 39, 39F, 76, 239.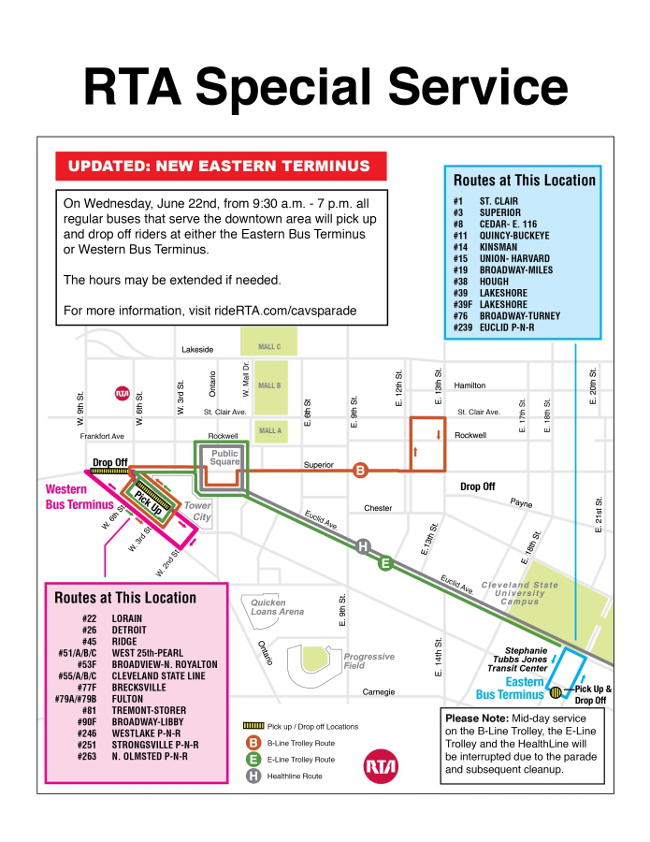 To reach RTA by car