Effective:

Nov 7, 2020

to

Nov 8, 2020
On Saturday, November 7 and Sunday, November 8, 66R buses will replace Red Line trains between Tower City and Windermere stations due to work on the new E. 79th St. station.
66R buses will not serve the Tri-C-Campus District or E. 55th St. stations. Riders wishing to access these stations may use the Blue or Green Lines.
66R buses will stop at all other Red Line stations at the special orange 66R bus stop signs.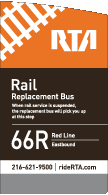 There is a 66R stop on Woodland-E. 55.
The stop for Tower City is located on W. Prospect at W. 3rd St.
66R buses will run every 30 minutes.
Regular Red Line rail service between the Airport and Tower City will operate during this time.
Full Red Line rail service will resume with the start of service on Monday, November 8, 2020.
RTA apologizes for the inconvenience as this necessary work is completed.