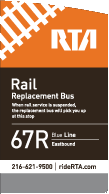 June 28 through August 8, 2020, Blue and Green Line rail service east of Tower City will be replaced with 67R buses due to a six week GCRTA track construction project between E. 55 and Woodhill.
67R buses will follow a special alignment during this shutdown, operating to/from Green Road via Van Aken Blvd. and Warrensville Center Road. See the map below.
67R buses will not stop at the E. 55 station or the Tri-C-Campus District Station. Riders wishing to access these areas can use the Red Line. There are additional 67R stops at Woodland-E. 55 and Woodland E. 79. The stop for Tower City is located on W. Huron at W. 3rd St. Look for the orange 67R bus stop signs along the route.
Waterfront Line rail service will operate every 30 minutes during this shutdown.
Regular Light Rail service is scheduled to resume with the start of service on Sunday, August 9, 2020.
As with all rail replacement service, 67R buses are fare free.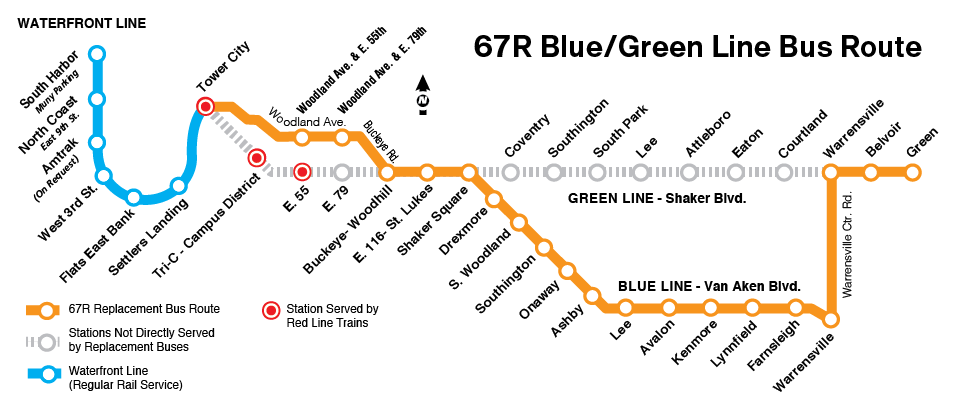 Additional stop information for those Green Line stations not served by 67R Replacement Buses:
| | |
| --- | --- |
| Rail Station | 67R Replacement Bus Location |
| Shaker- Coventry, Westbound | Van Aken at Drexmore |
| Shaker- Coventry, Eastbound | Van Aken at Drexmore |
| Shaker- Southington, Westbound | Van Aken at Drexmore |
| Shaker- Southington, Eastbound | Van Aken at Drexmore |
| Shaker- South Park, Westbound | Van Aken at Southington |
| Shaker- South Park, Eastbound | Van Aken at Southington |
| Shaker- Lee, Westbound | Van Aken at Lee |
| Shaker- Lee, Eastbound | Van Aken at Lee |
| Shaker- Attleboro, Westbound | Van Aken at Avalon |
| Shaker- Attleboro, Eastbound | Van Aken at Avalon |
| Shaker- Eaton, Westbound | On Warrensville Ctr. Rd. at Shaker Blvd. west, near #41-41F stop |
| Shaker- Eaton, Eastbound | On Warrensville Ctr. Rd. near Shaker Blvd. east |
| Shaker- Courtland, Westbound | On Warrensville Ctr. Rd. at Shaker Blvd. west, near #41-41F stop |
| Shaker- Courtland, Eastbound | On Warrensville Ctr. Rd. near Shaker Blvd. east |
| Shaker- Warrensville, Westbound | On Warrensville Ctr. Rd. at Shaker Blvd. west, near #41-41F stop |
| Shaker- Warrensville, Eastbound | On Warrensville Ctr. Rd. near Shaker Blvd. |
| Van Aken- Warrensville | Stop is served in both directions, please check destination sign before boarding: 67R EAST to Green Rd., 67R WEST to Tower City |