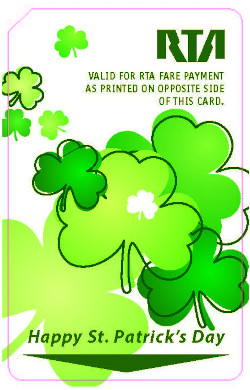 The Cleveland St. Patrick's Day Parade is back, and GCRTA is a great choice to get you to and from the parade.
For $5, you can ride GCRTA Rapid round-trip and enjoy the parade, while also being safe. The 2022 St. Patrick's Day parade is expected to draw thousands of people into downtown Cleveland. RTA goes the extra mile to provide a safe and reliable experience for the holiday crowd, as well as regular customers, with extra capacity on the rail service to handle the additional demand. Here are some helpful tips to ensure you have a safe, enjoyable, and memorable experience this St. Patrick's Day:
Have exact change. Have $5 cash ready to purchase your round-trip ticket. Keep this ticket safe, as you will need to show it on your way back home.

$5 cash only round-trip passes are available at the following rail stations only: Brookpark, Puritas, Triskett, W. 117, and Tower City (Red, Blue and Green Lines)
Don't have cash? Don't worry. You can still purchase a one-way fare ($2.50) or an All-Day pass ($5.00) at a Ticket Vending Machine or on the RTA CLE mobile ticketing app.

Plan ahead & leave early. Large crowds are expected so give yourself plenty of time to arrive safely.
Bring a mask because they are still required when riding any mode of RTA transportation.
Ride the Rapid. Trains will leave frequently throughout the day. Check rideRTA.com for scheduled departure times.
Ride the HealthLine. Hop on the HealthLine from East Cleveland to Public Square. The HealthLine operates 24/7, so no need to worry about staying out late.
Pack lightly, protect your belongings, and use the buddy system. Leave your valuable items and backpacks at home (backpacks are subject to searching by RTA Transit Police and Cleveland Police).
RTA Transit Police and Cleveland Police thank you for your cooperation.
Download the Transit app for the latest updates on arrival times! Follow RTA  on Twitter and Facebook using #CLEStPats
Remember that the GCRTA Rapid starts operating at 4 a.m. so whether you're coming downtown for the parade, catching one of the many bands playing at the bars scattered across downtown, or just spending the day in Cleveland to experience the atmosphere, be sure to take advantage of riding any of the services offered by GCRTA.